Moakley's Marathon
An English teacher's take on being guided by ambition despite the hectic nature of daily life.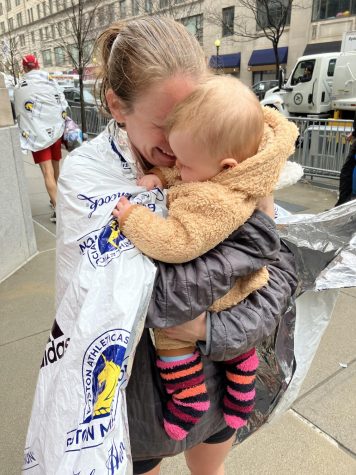 When Patriots' Day rolls around each year, the bustling streets of Boston, Massachusetts come to a halt. Roads are cleared. Schools are shut down for the day. Neighborhoods and communities flock to block parties with food and games. The celebration is not only meant to commemorate the first battles of the American Revolutionary War, but also to cheer on the ambitious runners of the Boston Marathon.
On April 17, 30,000 athletes gathered from over 100 countries to participate in the 26.2 mile race. Among them was Green Hope's very own Ms. Caroline Moakley.
After completing the Richmond marathon, Moakley received a Boston Marathon qualifying time, finishing the race under 3 hours and 30 minutes. "Everyone was like, 'Are you gonna do Boston?' So I was like 'Yeah, I should probably do Boston,'" said Moakley. With some encouragement from her friends, she decided to accept the challenge.
Moakley participated in heavy training, running five times a week totaling about five to six hours. On weekends, she ran up to 22 miles.
Moakley's schedule is extremely busy, as she balances the responsibilities of being a teacher and caring for an infant. Support from her friends and family, she said, was essential to her training process. Moakley's husband, who is also a marathon runner, works closely with her to maintain balance in their schedule. "It's something we do together so that's fun. I think both my husband and I enjoy having something to almost distract us from the chaos of work . . . It's fun to have an outlet," said Moakley.
"
With my daughter now I also run because I want to set a good example for her."
— Ms. Caroline Moakley
Ever since she was a young child, the idea of "having an outlet" has always been a part of her life. Moakley doesn't see running as something on her to-do list, but rather a method of self care.
"I look forward to training when I get home from work, because, especially after a long day of work, running or cycling or something like that . . . it feels like something I can do for myself that I can control," she said.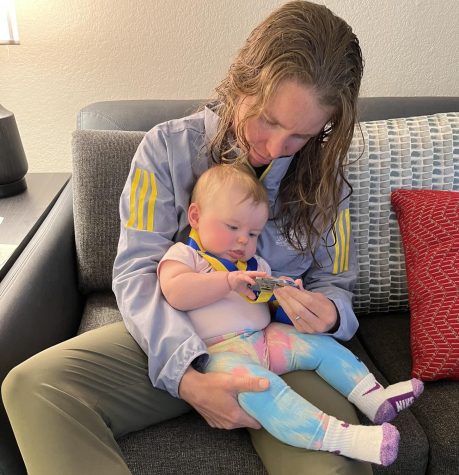 Moakley always finds a way to fit training into her schedule by being open to sudden changes. "In my experience it always helps to have a plan, but also to be flexible if something happens," she said. This could look like taking her daughter on runs with her or riding her bike inside when it rains, but never letting obstacles stand in the way of her success.
The diversity of runners at the Boston Marathon provided a chance for Moakley to connect with other athletes balancing running with work, ranging from surgeons to other moms. "There were 20 other new moms there…it was kind of cool just to talk to everybody and share their experiences of running while having an infant," said Moakley.
Moakley enjoyed meeting other individuals and learning about the lives of other runners.
"It was exciting. You feel like you're a part of something bigger. You're not worried about your individual performance," she said.
In the end, she finished strong, completing the race with a time of 3:41:23 and leaving with fond memories of the worldwide running community.
"
Every time you race you gain a little bit of wisdom."
— Ms. Caroline Moakley