Will You Be My Falcontine?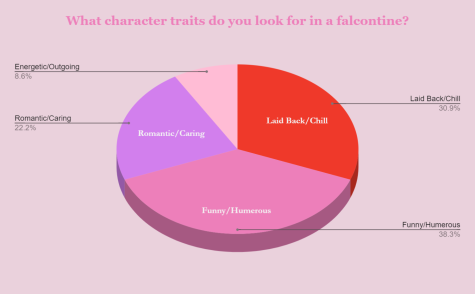 As soon as the clock strikes 12 on January 31st, the world turns to pink and roses. Every store shelf is suddenly full of candy, teddy bears, and flowers all in preparation for Valentine's Day. Green Hope puts its own twist on the holiday with the already well-known singing Valentines and more recently, Falcontine. Whether you're looking for romance or just a friendship, Falcontine is a fun and festive activity to do. By filling out a simple form, you can get matched with someone at Green Hope who shares the same hobbies, characteristics, or taste as you. Falcontine is a great way to get to know the people you wouldn't typically engage.  While our matchmaking service can't beat Cupid, there is a hope that it can foster great friendships around the school! 
"
They need to have at least some sense of style, and should have a clear vision of who they wanna be in the future."
— Sohan Gundlavoila ('23)
When asking fellow students the traits they look for in a falcontine, the majority valued humor over all else. In fact, nearly 39 percent of students that filled out the form wanted it to be the main trait in their falcontine. The second characteristic to that is "laid back/chill" and coming in at a shocking 3rd place, "romantic/caring." Considering the nature of the holiday, it was expected that more people would be on the lookout for romance. However, it seems the falcons have spoken and the theme for this Valentine's day is friendship!