Easy, Simple & Festive: Holiday Treats
'Tis the season for some cozy and mouth-watering holiday treats. In this cold weather, nothing is better than some fresh, easy-to-make bakeries. Below are just a few out of many easy recipes to make at home!
These bite-sized, delectable treats only require three ingredients: perfect for anyone craving a small tasty treat! With an oreo base and a smooth chocolate top, biting into the truffles gives a perfectly soft, fluffy brownie-like texture. Making this easy treat is great for family and friends coming over for the holidays!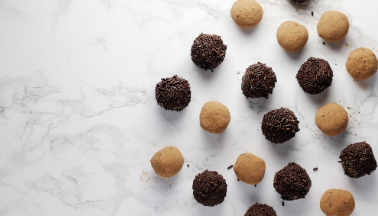 Amount: 3 dozen
Prep Time: 40 minutes
Total Time: 1 hour and 10 minutes
Ingredients:
2 8-ounce packages of semisweet baking chocolate
16 ounces of Oreos, divided
1 8-ounce package of cream cheese softened
Tools:
Bowl
2 baking sheets with parchment paper
Cooling rack
Food processor or equivalent
Steps:
Melt chocolate in a saucepan over low heat, occasionally stirring, for 4 to 6 minutes.
While the chocolate is melting, place 9 cream-filled sandwich cookies in a food processor and blend until finely crushed. Transfer crumbs to a bowl and reserve for decorating.
Add the remaining cookies to the food processor and blend until finely crushed. Transfer crumbs to a large bowl and stir in cream cheese; mix until well-blended. Roll the mixture into 42 balls, about 1 inch in diameter.
Place each ball in melted chocolate and use two forks to roll it until fully coated. Lift the ball with both forks and allow excess chocolate to drip off. Place coated truffle on a wax paper-lined baking sheet and sprinkle with reserved cookie crumbs to decorate. Repeat to make the remaining truffles.
Refrigerate truffles until firm, at least 1 hour. Keep in the refrigerator until just before serving.
This toffee and pecan brownie recipe is a heavenly combination of sweetness that makes this dessert irresistible. The moist brownie, drizzled with caramel and filled with toffee and chocolate chips, creates the perfect smell to fill the house!
Amount: 12 servings
Prep Time: 20 minutes
Total Time: 1 hour
Ingredients:
1 cup all-purpose flour
1/4 teaspoon salt
3/4 cup (1-1/2 sticks) butter
2 squares (2 ounces) of unsweetened chocolate
3/4 cup granulated sugar
2 eggs
1 teaspoon vanilla extract
1/2 cup pecans
1/2 cup semi-sweet chocolate chips
1/2 cup toffee chips
1/4 cup caramel sauce or caramel syrup
Tools:
11 x 7-inch cake pan
Cooling rack
Vegetable pan spray
Steps:
Preheat the oven to 350º F and spray an 11 x 7 cake pan with vegetable pan spray.
In a bowl, mix the flour and salt.
In another bowl, microwave safe, melt the butter and chocolate together. Once the mixture has completely melted, stir it with sugar.
Add eggs and vanilla extract to the butter & chocolate mixture. Mix well. After that, slowly stir in the flour mixture. Once completely combined, add ¼ cup of pecans and chocolate chips, and toffee chips.
After mixing everything together, spread the batter evenly onto the prepared pan. Then, sprinkle the remaining ¼ of the pecans evenly on top of the batter.
Place the pan into the oven and bake for 20-25 minutes or until a toothpick is inserted and it comes out clean.
Once the brownies are ready, take them out of the oven and let them cool completely
Once they have cooled, drizzle with caramel syrup or caramel sauce
Finally, cut it up.
Peppermint bark truly combines the taste of white/brown chocolate with the classic candy cane staple for the holidays. A crisp treat but with a sweet base, a combination of a savory texture with a candied glaze. Making this treat is easy and a perfect gift for giving!
Amount: 12 servings
Prep Time: 10 minutes
Total Time: 50 minutes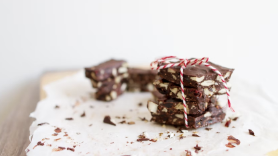 Ingredients:
12 oz. semisweet chocolate, chopped
12 oz. white chocolate, chopped
1/2 tsp. peppermint extract
8 candy canes, crushed
Tools:
Heatproof bowl
Baking sheet with parchment paper
Large pot
Offset spatula
Steps:
Line a baking sheet with parchment paper.
Fill the bottom of a large pot with 3" water, and bring to a simmer over medium heat.
Reduce heat to low, then place a large heatproof bowl on top.
Add semi-sweet chocolate and occasionally stir until the chocolate has melted.
Stir in extract. Pour into the prepared baking sheet and spread into an even layer with an offset spatula.
Refrigerate until set, about 20 minutes.
Over the same pot of barely simmering water, place another large heatproof bowl.
Add white chocolate and stir until melted.
Pour over set semi-sweet chocolate, then top immediately with candy canes.
Refrigerate until set, about 20 minutes.
Gold-covered chocolate coins have been a part of numerous people's childhood celebrations. Presents are given each night of Hanukkah, and kids might receive chocolate coins as their "money," giving kids a sense of responsibility and joy. This is an easy-to-make chocolatey treat to make with your loved ones!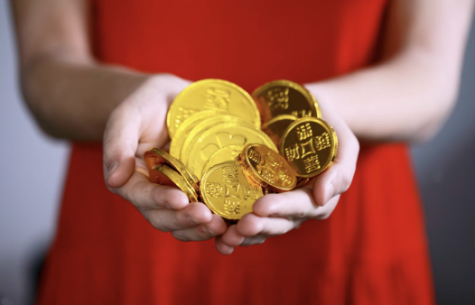 Amount: 24 serving
Prep Time: 15 minutes
Total Time: 1 hour and 15 minutes
Ingredients:
Vegetable Oil
6 ounces bittersweet chocolate, finely chopped
Assorted gold sprinkles, pearlized sugar, or confetti
Tools:
24-cup mini muffin tin or two 12-cup mini muffin tins
Steps:
Brush a 24-cup mini muffin pan or two 12-cup mini muffin tins (preferably nonstick) with oil.
Put the chocolate in a microwave-safe bowl and microwave in 30-second intervals, stirring in between each, until completely melted and smooth- about 90 seconds.
Divide the melted chocolate evenly among the cups of the prepared muffin tin, about 1 3/4 teaspoons per muffin cup. (You can also use a pastry bag for this part.) Tap the muffin tin against the counter to remove any air bubbles and even out the chocolate.
Top with gold sprinkles and refrigerate until set, about 1 hour. Use an offset spatula to remove the chocolate from the tin.
This candied yam side dish is a great holiday treat to make on Kwanzaa, as it will surely impress everyone around. Not only that, but the soft and crisp texture, when baked in the oven, makes it a heavenly treat. The mix of citrus and the woodiness of the cinnamon stick makes this a phenomenal dessert to try!
Amount: 8-10 servings
Prep Time: 25 minutes
Total Time: 1 hour 40 minutes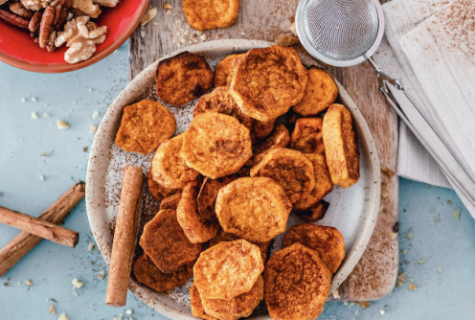 Ingredients:
3 pounds sweet potatoes, peeled and sliced crosswise in ~1/4-inch-thick rounds
1 orange, thinly sliced into rounds
2 sticks of unsalted butter
1 cup light brown sugar
3 cinnamon sticks
½ teaspoon ground nutmeg
1 teaspoon kosher salt
Tools:
2-quart baking dish
Saucepan
Foil
Steps:
Preheat oven to 350º F. In a 2-quart baking dish, place sweet potato slices overlapping each other slightly until the dish is fully covered.
In a saucepan, melt butter over low heat. Then stir in the brown sugar, cinnamon, nutmeg, and salt.
Cook the mixture until the sugar is fully dissolved. Then, add the slices of orange.
Pour the mixture on the sweet potatoes covering the entirety of the surface
Tightly wrap the dish with foil
Bake the dish for about 40 minutes or until the sweet potatoes are soft and poked with a fork.
After that, remove the foil and bake once again for another 20-25 minutes or until the top is golden brown.
Let the platter cool for about 15 minutes before serving
These peppermint meltaway cookies are perfect for the winter. On an evening and cold night, a mug of freshly made hot cocoa with these soft cookies is the perfect combination. These cookies have a melt-in-your-mouth texture that fills your mouth with extravagant flavors of all kinds. The peppermint touch is definitely the cherry on top for these cookies!
Amount: 28 servings
Prep Time: 10 minutes
Total Time: 1 hour 30 minutes
Ingredients:
Cookies
1 ¼ cup (150 g.) cake flour
½ cup (60 g.) powdered sugar
1 tbsp. cornstarch
¼ tsp. baking powder
¼ tsp. kosher salt
½ cup (1 stick) unsalted butter, softened
¼ tsp. peppermint extract
Icing
½ cup (60 g.) powdered sugar
2 tsp. milk or water
1 small drop of red liquid food coloring
Crushed peppermint candies, for sprinkling
Steps:
Cookies
Preheat the oven to 350ºF and fit a large baking sheet with parchment paper.
In a food processor, place the flour, powdered sugar, cornstarch, baking powder, and salt. Pulse a few times until combined. After that, add butter and peppermint extract. Pulse a few more times until the mixture turns into a dough ball.
Then, scoop out 28 rounded teaspoons (10 grams) of dough. Once that has been done, place the rounded dough on the prepared sheet. Place them about an inch apart, so they do not overlap with each other.
Press down onto the dough balls to slightly flatten them out
Place the baking sheet into the oven and bake for 8 to 12 minutes. Be sure to leave them in there until the bottom of the cookies turns golden brown.
Icing
In a bowl, whisk powdered sugar and milk (or water) until the consistency becomes thick and spreadable.
Add a small drop of food coloring into the icing until it turns pale pink.
Spoon out about 1 teaspoon of icing over each cookie and spread evenly, leaving a slight border.
Sprinkle cookies with crushed peppermint candies.
Set cookies aside for about 30 minutes until the icing sets.