Shooting under par: The Green Hope Women's Golf Team
Nearing the end of their regular season, the Green Hope Women's Golf Team has made a name for themselves with their outstanding performance. Most recently, the team finished third at the Pinehurst Invitational on Wednesday, October 5th. Tyler Spriggs, a senior captain, earned First Team All-Tournament, finishing third individually out of 93 golfers. 
The team has finished in the top three in eight of the ten matches they've competed in thus far, with senior captains Tyler Spriggs, Isabella Fron, and Justine Pennycooke leading the way.
With a 9-hole-round best of 30 and 35.4 average, Pennycooke is the highest scorer on the team. She has received three medals so far, overcoming frustration the team felt after a number of second place finishes early in the season. Pennycooke describes the team as hardworking because "even after they kept getting second, they persevered and kept practicing until they were able to take home a first place finish." She believes that the team has the potential to win States if they can all come together and be on their best game.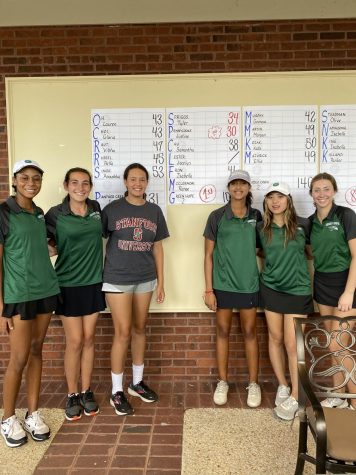 Likewise, Tyler Spriggs shares Pennycooke's positive disposition. Spriggs notes that everyone on the team has been improving individually and contributing to the team's success. Some players have achieved personal bests, which is a major accomplishment. When asked how she would describe the team, Spriggs said, "consistent. I know it's not the craziest word, but it's the best way I can describe the faith I have in my team. I know I can depend on them to try their best no matter what." Her analysis of the team's mindset is motivated by their conference win at Prestonwood, the team's home course. Spriggs herself has earned two medals and placed second and third at state-wide invitationals, two of the most competitive tournaments.
As States loom on the horizon, the team is polishing up their shots and perfecting their swings to give themselves the best chance of winning. They strive to position themselves for States by improving their ranking in upcoming Conference Championships and Regional tournaments.