New Beginnings: Green Hope Extends Welcome to New Cheer Coach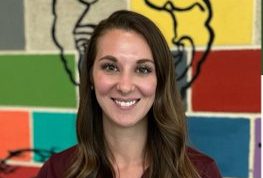 With new changes already being made for the 2022-23 school year, Green Hope's athletic department is excited to welcome their newest addition, Ms. Cassandra Gaglianese! 
Ms. Gaglianese moved from Upstate New York to Raleigh roughly two years ago. Cheering for 8 years, with four of them at Gannon University, the sport became a huge part of her life. 
She also previously competed with a co-ed team which placed 4th in the nation at NCA College Nationals, located in Daytona Beach, Florida. Receiving accolades such as an NCA two-time All American and Top-Gun dancer, the new coach hopes to engage herself in a sport she has always been passionate about. 
Prior to joining Green Hope's athletic department, Ms. Gaglianese coached the cheer team at West Lake Middle School, located in Apex, NC. Leading her athletes to first place at the WCPSS Cheer Competition, she aims to drive her new team at Green Hope to success. Alongside coaching, Ms. Gaglianese will be entering her fifth year of teaching this upcoming fall. 
The Green Hope Falcon interviewed Ms. Gaglianese in preparation for her coaching role.
What encouraged you to start coaching at Green Hope?
As a coach, I am ready for a challenge and a more competitive environment. I want to rebuild Green Hope's Cheer Program and pass my knowledge and passion of cheer along to young athletes. 
What changes do you plan on implementing to the Green Hope Cheer team?
I plan to implement tons of school spirit and pride within the Green Hope High School community. I want every student at GHHS to be proud that they are a Falcon! I also want my athletes to be involved in their community through community service and outreach. It is extremely important that our student athletes give back to their community, especially since our community provides so much support to our young athletes. 
What are you most looking forward to for the upcoming school year?
I am looking forward to getting to know the students and faculty members at GHHS. This will be my first year in a 9-12 high school, so I am excited for the new atmosphere and challenges that high school has to offer. 
We wish Ms. Gaglianese best of luck with the upcoming school year!