Green Hope Women's Soccer Goes Out With a Bang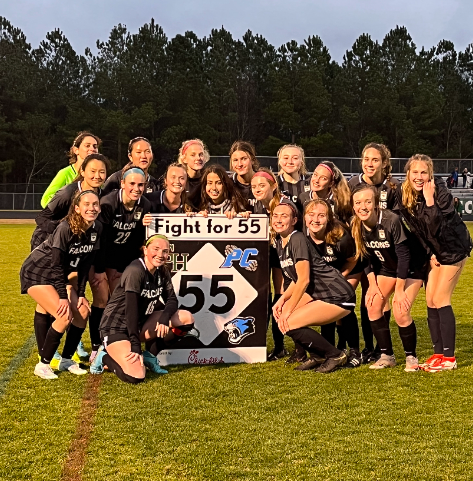 Green Hope's women's soccer team finished the season strong this month after winning their last three games.
Their three-game winning streak reflects their ability to withstand tough opponents and bounce back from adversity. According to Coach Wolfe, the Falcons won the finale match against Apex High by working together. "Taylor Nightingale scored a terrific goal to put us up 1-0, and then Caroline Graybeal finished a perfectly placed corner kick from Megan Setlak to secure the victory! ' Coach Wolfe said as he reminisced about the final moments of the season. In the match against Apex High, the team adopted a new playstyle that catered toward defense. "We changed our system of play to a 4-2-3-1. We hoped to be more defensive," said Coach Wolfe. This strategy proved to be effective as they held Apex to one goal. "The girls executed the tactics beautifully and pulled out a hard-fought and well-deserved conference win," said Coach Wolfe, expressing how proud he is of his players.
Although the players worked tirelessly to win conferences, they also didn't forget to enjoy the moments and build friendships. "I had a fun season and had a great time getting to know my teammates," said Megan Setlak, captain of the women's soccer team. "I can't wait to see what they do next year," she said, sending her best wishes to the team as she prepares for her upcoming soccer career at Virginia Wesleyan University. Megan also expressed gratitude toward her coach, stating, "thanks to Coach Wolfe for helping better the team and making the season enjoyable."
The season ended on a positive note, but the process of getting there wasn't easy. "It has been a challenging season," said Coach Wolfe. Megan Setlak harmonized with this sentiment, stating, "The season wasn't how we thought it was going to be." The challenges that the team encountered didn't stop its players from giving the sport their all. "We all did the best we could, and as long as you do that, you can look at yourself in the mirror at the end of the day," said Coach Wolfe.
With nine underclassmen on the team, Green Hope soccer is sure to find success in the coming seasons.
"
"My message to my players is to stay positive, but to work hard to improve individually, so that when we come back together next winter, we are better collectively." "
— Green Hope Women's Soccer Coach, Jason Wolfe