Environmental Club Donates Devices to Honduras
The season of spring welcomes blooming flowers, chirping birds, and warm weather. Amidst this spawn of nature, it is especially important for people to not only appreciate the environment but also take care of it. Fortunately, the season of spring also marks Earth day. However, environmental action does not have to wait until the end of April. Green Hope's Environmental Club has taken things into their own hands by participating in an eco-friendly initiative to aid children in Honduras. Through partnering with Saint Michael's Church and other Wake County schools the club has worked to raise more than $10,000 helping them donate over 800 devices to kids in need. Yet, the collection of devices was never the original plan. 
The initial idea started nearly two years ago with the club creating a science-teaching program for underprivileged students in the Triangle. President of the Environmental Club, Isaac Lund, exclaimed that it was "a huge success." Only recently did the trajectory move towards the donation of technology. After discovering Saint Michael's frequent donations to their sister parish in Honduras the Environmental Club saw an opportunity to help. They noticed that among the materials being sent over, there was a severe lack of technology. This caught the club's attention as technology has become a large aspect of schools and a critical element to education.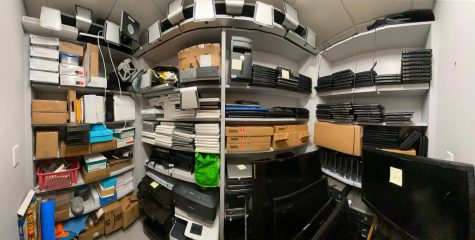 Knowing this, members of the Environmental Club reached out to local businesses as well as electronic recycling companies to obtain devices they could send over. Students also put forth fundraising efforts in order to refurbish the devices making sure they were in good working condition. The initiative proved to be extremely eco-friendly as it repurposed devices that would have otherwise been trashed. This so-called "technotrash" has been known to release chemicals extremely hazardous to the environment. This is a phenomenon that is being prevented with every piece of tech that gets repurposed and reused. Additionally, this approach has been fantastic for the Triangle economically as it provided businesses with opportunities for tax deductibles. Lund described how the initiative was able to provide "around $150,000 worth of tax deductibles to businesses." The devices themselves have been shipped on Saint Michael's annual flight over to Honduras. Lund explained that some devices have already been sent out saying, "They brought over an initial shipment…around 20-30 devices…that way we could get the students feedback."  If all goes to plan the club hopes to achieve full donation of devices by the end of the school year!