"There isn't a piece missing to them": Autism Acceptance Month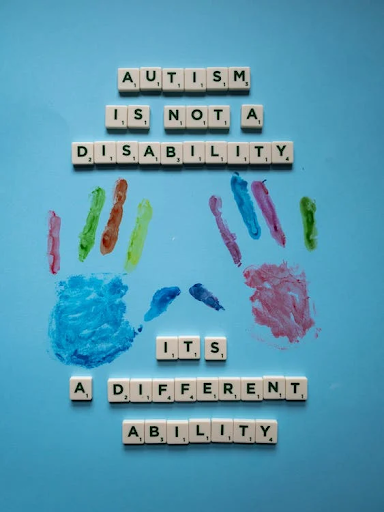 National Autism Acceptance Month is practiced every April as a part of the movement to provide support for individuals on the autism spectrum. Created in 1972 by the non-profit organization Autism Speaks, the month is celebrated by educating others on autism, creating autism-themed crafts and donating to autism-focused charities. 
Autism Acceptance Month sparks change in communities around the United States, redefining the public perspective of autism. According to the Centers for Disease Control and Prevention (CDC), about 1% of the world's population has autism, which is more than 75,000,000 people around the globe. 
Green Hope High School's Extended Content Standards (ECS) teachers, Ms. Bunn and Ms. Jensen work with a variety of students with neurodivergent conditions daily, including students with autism. 
"Autism is a very large spectrum in our classrooms…Every day looks different, no matter how much we prepare and try to plan certain things you are always just expecting the unexpected in a good way," said Ms. Jensen, one of the Special Education teachers in the ECS department.
At Green Hope, students in the ECS department study math, English and prevocational skills to help them prepare for life post-graduation.
The department focuses on nurturing communication skills and daily living knowledge to help students become more independent, such as doing laundry and working in kitchens. The ECS department also frequently works with prominent members of the state community, regularly inviting police officers and firefighters to talk with their students.
Beyond community involvement, the team of teachers also regularly discuss their students' identity in relation to autism. "In our classrooms specifically we're celebrating everyone all the time. Autism, down syndrome, intellectual disabilities. You name it, we're celebrating it," stated Ms. Jensen, the special education teacher for the ECS department. 
Throughout their teaching careers, Ms. Jensen and Ms. Bunn have seen changes in the way people approach their students with autism. Now, more general education students and teachers are accepting of ECS students by allowing a larger amount of ECS students into elective classrooms and stopping to say hello to the ECS students. Seeing general education students treat the ECS departments' students with respect puts a smile on the ECS teachers' faces.
Green Hope Vocational Teacher Ms. Bunn stated that, "It's a month for us to appreciate people that think differently. I think a lot of times we do say autism awareness, but I think a lot of people are trying to push it toward autism acceptance. We're more aware of it, now it's time to accept that everyone thinks differently."
"
We're more aware of it, now it's time to accept that everyone thinks differently.
— Ms. Laura Bunn, Green Hope ECS Vocational Teacher
As autism awareness continues to grow through the month-long advocacy, many groups are pushing for change in the decade-old autism symbol: the blue puzzle piece. Supporters of the movement suggest utilizing an infinity symbol instead to better represent neurodivergence. 
"The puzzle piece kind of implies that there's a piece missing, but with autism, there isn't really a piece missing to them…the infinity sign is all-encompassing of their personality and is a part of them and their whole being. It [autism] is just a way of thinking differently, and there's nothing missing and nothing to fix," said Ms. Bunn.
Ms. Bunn also added that many campaigns, such as Light it Up Blue within Autism Speaks, put effort toward finding a cure for autism. "I personally don't believe there is a cure for autism…I support organizations that are trying to raise funds to support individuals with autism and provide money to give them support to live rather than finding them a cure," said Ms. Bunn.
Ms. Jensen agreed, adding that, "Whether there is a label for autism or not, everyone is different in the world… For us to spend all this time in search of a cure is reactivity instead of proactive action when we could be using our resources to help and adapt to the world, so that people with differences, whether they have autism or not, could live in the world instead of being told that something is wrong with them." 
Though Autism Acceptance Month has created significant change since 1972, the ECS teachers believe there is always more that can be done. Even with today's widespread awareness, some people remain wary of those with autism. The push toward creating a world better adapted for individuals with neurodivergent conditions leaves the ECS teachers optimistic for a brighter future.