From pep rallies to Nationals: Dance Team performs in Orlando, Florida
On Mar. 4 and 5, the Green Hope Dance team competed on the national stage at the Contest of Champions (COC) in Orlando, Florida. 
While the results have yet to be released, the team was pleased with their dances. Head dance team coach Mrs. Katherine Burkett said, "I am extremely proud of how our team performed at the competition this past weekend. They had to overcome so many obstacles this season and they did so with an incredible amount of poise."
Paige Lisson ('23), one of the senior dance captains, agreed that the team performed well. "I believe the team did very well in Florida this past weekend . . . We put our best foot forward in the competition and I am proud of the performances we left out on the floor," she said.
The dance team spent months practicing for the competition. "During competition season, the team continued to practice three times a week," Lisson said. "A typical practice day always began with a warm-up. Next, we would spend the rest of the time rehearsing our competition routines, perfecting them with our coaches' corrections and reworking any choreography or formations that required it."
Lisson also discussed her experience at the competition, saying, "having the opportunity to watch other dance teams from around the nation compete was insightful and a reward in itself."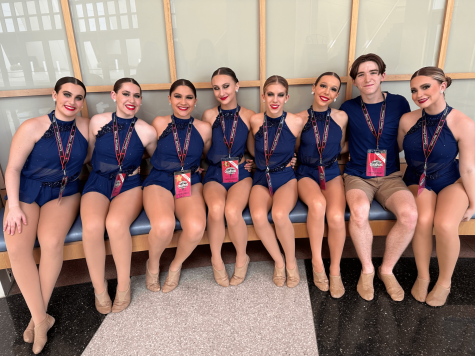 No matter the outcome, Mrs. Burkett said the competition was a valuable experience for the team. "I think the team learned a lesson in resilience. It was a challenging season for these dancers, with constant changes due to injury and plans changing. I think they learned that as a team they are strong and capable of handling the challenges life throws at them," she said.
As a coach, Mrs. Burkett said that her "favorite part of the trip was getting to see all the dancers celebrate and show off the hard work that they have put in this season."
The dancers were also able to participate in team-bonding activities. Lisson described one of the team's favorite outings, saying "my favorite part of the trip, aside from competing on the Nationals floor, was getting to spend time with the team at Disney. Rewarding ourselves with the fun rides and food was such an exciting and memorable experience that I will never forget."
While the Contest of Champions marks the end of the dance season, the Dance Team looks forward to entertaining the Green Hope student body and participating in more competitions next year.