Students shine at All-State Honors Chorus and Orchestra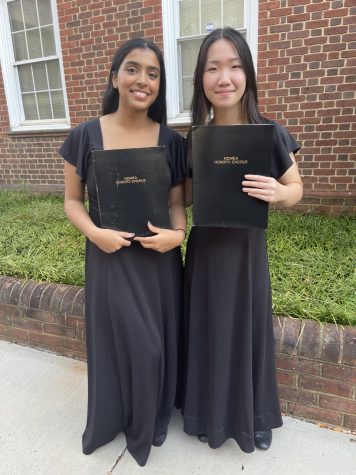 On November 6th, seven Green Hope students participated in the prestigious All-State Honors Chorus and Orchestra. Monica Chen ('24) and Shreya Ravi ('24) participated in the chorus, and Olivia Chen ('24), Lisa Zhao ('23), Joyce Cho ('24), Tina Zhang ('24) and Allen Yao ('23) participated in the orchestra. Both programs are audition-based and designed for dedicated musicians who want to expand their skills beyond the classroom. However, this exciting achievement didn't come without hours of preparation.
For chorus, preparation began in spring for August auditions, where a piece was prepared along with a sight reading. This year, the prepared piece for auditions was a German song composed by Mendelssohn.
Chen, who had never sung a song in German, spent months over summer perfecting the piece. She described learning German text as "a fun experience" while also acknowledging the challenges it carried. "The main difficulty for me was the pronunciation of the words…Diction and articulation are important factors that are scored in the audition process, so making sure I was pronouncing everything correctly was crucial," Chen said.
Ravi, however, had prior experience with musical pieces in German, but the pressures that came with auditioning served to be just as challenging.
Ultimately, the hard work proved to be rewarding for both singers, as they were part of the 180 students selected out of the 800 who auditioned.
As members of the North Carolina Honors Chorus, Chen and Ravi took part in a two-day event at the University of North Carolina School of the Arts (UNCSA) in Winston-Salem earlier this month. They practiced and perfected seven pieces, ranging from modern songs to contemporary, to perform at a concert at the end of the two days. Mr. Allen Botwick, the chorus director at Green Hope High School, described the concert as "the best chorus concert in North Carolina."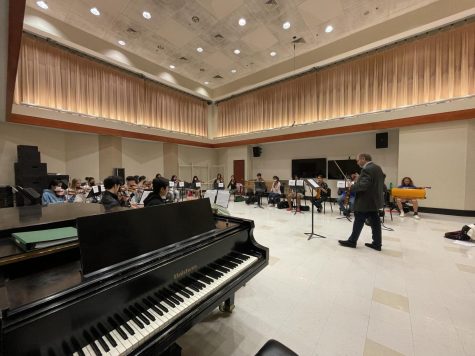 The singers said that one of the most exciting aspects of the Honors Chorus was the opportunity to collaborate with collegiate director Dr. Hillary Apfelstadt from the University of Toronto. Ravi was particularly fond of this, saying,"[The collaboration was] exciting because she had placed emphasis on certain parts of the music that I wouldn't have expected … it is always fun to learn different things about a piece."
Green Hope's Honors Orchestra members also attended an event at UNCSA, where they spent two days practicing and performing John Williams' Star Wars suite. The musicians worked with collegiate director Mr. J. Aaron Hardwick from Wake Forest University. Zhao shared her thoughts on the event, saying, "it was a really fun experience, especially collaborating with musicians from all over the state."
North Carolina Honors Chorus and Orchestra were experiences that gave Green Hope's most committed musicians the ability to expand their skills, gain guidance from a collegiate director, and connect with talented peers who share the same passion.\