As the ball hit the ground ending the 2022 NCHSAA 4A Women's Individual State Championship, Olivia Corcoran ('24) was victorious. In an interview with the GH Falcon, the Villanova women's tennis commit, spoke on her journey from young tennis hopeful to future D1 star.
When did you begin playing tennis competitively?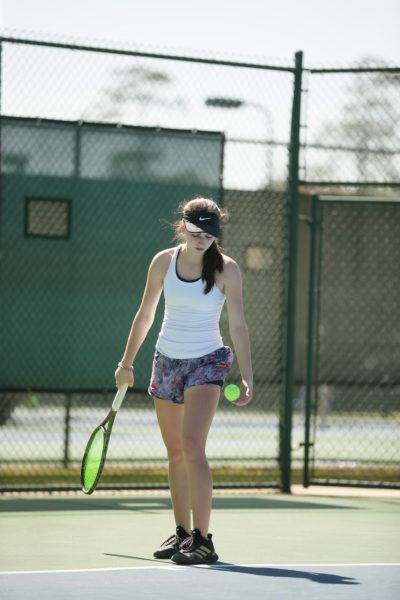 I began when I was 10, playing 2-3 hours a day. I mainly trained individually, but I also trained in groups in Raleigh/Durham.
How do you feel COVID affected your development?
I think that COVID actually helped my development because tennis, being an individual sport, didn't shut down. We were still able to play matches unlike most other sports.
What did your typical day over the summer look like?
Tennis wise, I trained for about 2-3 hours a day on the court, and then I would go to the gym where I would run everyday as well. I would run to focus on my endurance. During the school year, I do strength training four days a week before school and speed and agility work once a week after school.
How did your recruiting process work?
Villanova found me when I played one of their starters in a tournament about 6 months ago. I beat them for an upset win and they started recruiting me from there.
What made you choose Villanova?
It was a good school for me all around—athletically, academically, the campus, the location of the school was very nice as well. They also treat their athletes super well and I like the proximity to Philadelphia. I also liked the Coach, Coach Reiniger, and am excited to play for him.
What advice would you give to people who hope to play tennis in college?
Stay strong throughout the recruitment process, it's obviously hard with tennis being an international sport, but you'll always find the place where you're supposed to be.
As Olivia Corcoran finishes her senior year, she is already preparing to make a difference for the Villanova women's tennis team.