To Siva Rajesh, (17) there is no sound better than the soft thud of the birdie against the racquet. The sharp whistle through the air as it flies across and over the net is like music to his ears. Nationally ranked badminton player Siva Rajesh was first introduced to the game by his late father. He remembers spending all day with his father in the badminton court, coming home sweaty and with aching feet, but still wishing they could go for another round. For Rajesh, his love for the game originated in his backyard where he would play with his father.
Rajesh, originally from Cary, NC, was raised by his parents alongside his older sister who is currently a senior at UNC-Chapel Hill. He quickly rose up the ranks in badminton, having played the sport from a young age. He is currently ranked #17 in the nation and holds the #1 overall U-19 player spot in the Southeast region. Minor defeats did not deter his badminton career.
Rajesh spoke on his first badminton game, saying "My first badminton game was in a local club tournament, and it didn't go as I thought it would since I lost the game. But it didn't matter to me whether I won or lost because I had fun playing." However, his parents recognized the potential that Rajesh held and urged him to turn professional.
When talking about his inspiration, Rajesh thanks his coaches, but always mentions his father. "My coaches inspired me a lot…but my dad was always by my side supporting me."
Following his father's death in 2021, Rajesh's mother became the sole breadwinner for the family. Their financial situation became tight, and playing professional badminton was extremely expensive. The transportation costs, equipment costs, and hotel stays would begin to add up. Pursuing badminton did not look financially feasible for Siva and his family. Not willing to give up on a dream, Siva looked for a solution. He says, "Even during the toughest times, I still had the desire to play because I couldn't let all this time and effort go to waste. I wanted to achieve my goals, So I wasn't going to let it go easily."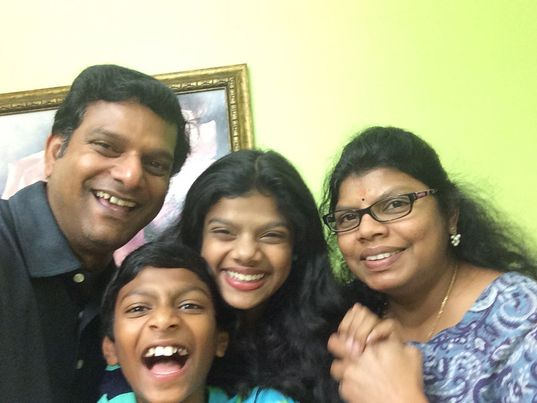 Rajesh had seen success stories of GoFundMe's for a variety of different causes. Deciding to give it his best shot, he created a GoFundMe in early September with a goal of ten thousand dollars and posted the link on his Instagram. Immediately, there was a huge outpour of support. His friends shared the link to his GoFundMe to their own Instagram stories and donations quickly started pouring in. "I did not expect that this many people would donate. The support from the community was incredible," Rajesh said. Within nine days, the campaign raised over $16,600. The largest singular amount that somebody contributed to the GoFundMe was $1000, by an anonymous donor. Rajesh believes that the way that Cary residents came together to help him out was an example of how close-knit and connected the community is. An anonymous donor, who wished to not be named spoke on the motivation behind donating.
"When I saw that there was this talented young man, who should have a bright future ahead of him, I knew that I had to contribute. After all, that is what a community is for. If we do not pick up and help our own, nobody else will. He deserves to have the same opportunities as everyone else," they said. 
He paid tribute to his father as well. "My late father was not just a parent, but a true mentor who introduced me to the sport and provided unwavering support throughout my journey. His belief in my potential and his constant encouragement were pivotal in shaping my passion for the sport and in instilling a strong work ethic within me. His guidance and dedication were the driving forces behind my growth in the sport."
Rajesh picks up his badminton bag, this time with a renewed sense of determination, knowing that there is nothing in the way of him and following his dreams.