Metamorphoses: Making school history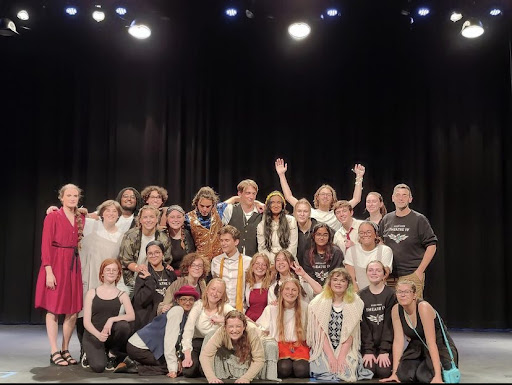 Only the finest theater programs qualify for the NC Southeastern Theater Festival and for the first time in school history, Green Hope will be one of the sixteen schools out of over a hundred chosen for this event. The production Metamorphoses was performed and produced by the Green Hope Advanced Theater group this past weekend at the Regional High School Play Festival in Reidsville High School. An opportunity to receive feedback from professional theater artists while connecting with other students – this competition opened the door to many triumphs. Metamorphoses received various individual awards. This includes the Excellence in Technical Direction and Production Design (Ria Rohilla '24), Excellence in Acting (Nic Andersen '23), and Excellence in Directing. While also receiving the highest rating possible, some came forward to personally comment on the production. One adjudicator commented, "This group was mature beyond years. The teamwork that was visible was life changing to watch. I'm sure the relationships they have built preparing for this day will last beyond their traditional school years." The fluidity of the group, combined with blood, sweat, and tears put into the play, really showed throughout the performance of a phenomenal Metamorphoses. 
Being behind the curtain reveals a different perspective than that of being on center stage. Lucy Tomforde ('24) gives an actor's angle on the production. Before stepping on stage, she says the crew has a couple traditions. Tomforde explains how "Before we go on stage, we clear all nerves by saying 'I release the need to' and someone would say something like 'I release the need to memorize lines' with everyone repeating it back, it's just an easing way to let go of stress, performing the production with a clear head." The advanced theater class has students who have previous experience in acting/tech and, with an audition required to get into the class, it brought together a tight-knit group of passionate theater students. Tomforde explained the work being put in over the last 3 months, "We've been working on the production everyday for class and we have to commit to after school performances." Going into Regionals, she says how her "favorite part of the whole experience was just meeting everyone from different schools and watching a variety of plays". It was great to see results after months of dedication, Tomford explicitly saying "I'm just super proud of everyone since we all worked really hard on this production."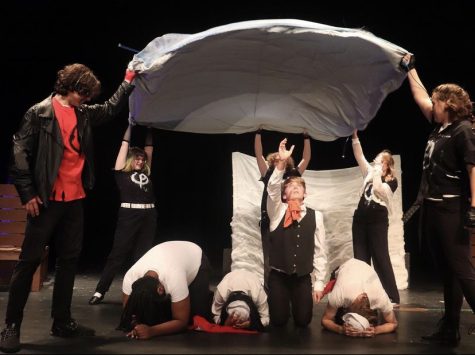 Mr. Comperatore, the theater teacher, had a vision to do something beyond; him stating, "I really loved challenging my students and doing something bigger than they thought they could do, watching them take it out and present it, with seeing that what we do in school and in our classes is really working." Students started working on Metamorphoses on the first day of school, spending class time and setting time aside for after school shows. Going to the Regional High School Play Festival–the environment was ecstatic. Comperatore explains "We get this shared experience because not only do we perform, we watch 15 other shows and we watch to see what works and what doesn't, the class typically spends days afterwards breaking down the whole thing talking about the whole show, and what was valuable from each production." The advanced theater group is preparing for nationals, building a different atmosphere with a new stage and start/end lines. Presenting Metamorphoses at a higher level brings in determination and drives the crew to perfect their work for the Southeastern Theater Conference. Comperatore expresses his gratitude for the actors and technicians- noting that, "It's been an awesome project and after this whole journey it'll be interesting to see how much their perspective about what we've been doing has changed."
On November 17th & 18th, Green Hope's Theater Department will travel to Greensboro College to represent the state of North Carolina at the largest High School theater conference in the nation. Making school history, this group of hardworking actors and technicians have made a remarkable impact on the theater program. Good luck on States, Falcons!