Advice For Juniors: Upcoming College Application Season
The Best Methods to Get You through the College Application Process
Getting ready to face the college application process as a junior can certainly be daunting. Having to juggle between getting that last SAT attempt in and understanding what major you want to pursue can be stressful. As a senior who recently finished his rendezvous with the college application season, I, along with some other seniors from Green Hope, have some advice to help you go into this process both ready and prepared.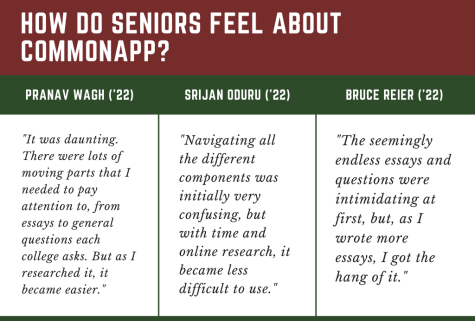 How do I even get started?
At this point in your high school career, you may be a bit confused on how to even get started with the college application process. Thankfully, it is not as difficult as it may seem. Many seniors, including myself, organized all of our college applications through the Common Application. This application lets you use the same profile for each of the colleges you apply to, and it organizes your application by sections: Profile (personal information), Family, Education, Testing, Activities, Writing, and Courses & Grades (this is optional depending on the colleges you apply to).
Some other students use the Coalition Application, but I would highly recommend using the Common App unless the college you apply to requires a different platform, such as UT Austin, MIT, Georgetown, the UC schools, etc. I personally did not have any difficulties with the Common Application, and it got me through the college application process.  I would definitely recommend using Common Application over the alternatives!
How can I ensure success early?
After asking multiple seniors from Green Hope who have all navigated their way through the college application season, they all had one very important piece of advice in common: start early.
"Everyone knows the cliche answer is to 'start early,' but that really is the best piece of advice that you'll ever hear," stated Srijan Oduru, a senior at Green Hope. "Starting early (summer) gives time to proofread, write new drafts, and explore different concepts and approaches. It ensures that your essays are your best work, and you'll feel a lot less stress come the first semester when you're also juggling coursework and extracurriculars," he explained.
"
Everyone knows the cliche answer is to 'start early,' but that really is the best piece of advice that you'll ever hear."
— Srijan Oduru ('22)
In other words, it is essential to use the time you have to start preparing for the application process so you don't fall behind and get overwhelmed by all of your other academic responsibilities. This sentiment was touched on by Addie Allara, another senior at Green Hope, who waited a bit too long to start on her essays. "My number 1 advice to juniors is to work on your essays over the summer," she stated. Everyone told me to use the summer, but I was lazy and didn't start them until September. It caused me a lot of extra stress that could have been avoided if I had started earlier. Don't be like me!"
Additionally, Addie also advises that rising seniors create an ongoing list of the tasks that need to be completed. "I recommend making yourself a list of all the things you need to do for each of your applications. Many colleges also have a page on their website with a checklist and submission deadlines, and I highly recommend utilizing those resources. Having a checklist keeps you organized and ensures that you don't forget to submit any parts."
What resources can I look to for help?
While maneuvering through the college application process, don't make the assumption that you should not ask other people for help. In fact, a great majority of the seniors at Green Hope found many resources that made their experiences with their applications significantly easier. Some of these resources may be offered at your school, and some may even be sourced from students themselves.
"I found CollegeVine to be especially helpful for tips on writing college-specific supplemental essays. They also have livestreams where they can answer your personalized questions," stated senior Benjamin Yan. "You should check out BeyondDreams as well, they're a student-led organization that offers webinars offering college admissions advice from people from upper-echelon schools. Coincidentally, I lead this org, and this is a shameless plug, so please check it out," he added.
Just like Ben, I also found CollegeVine to be of great use when planning out my college choices. Students are able to compare colleges and see some background information about each one.  The information provided includes admissions data, cost, the size of the undergraduate population, and much more. Students can also add colleges to their personal list on this website. I would highly recommend completing this process. The only drawback to this website is that it tries to calculate your chances of admission, but no one is able to accurately do that.
Other seniors, such as Ritvika Yeyuvuri, found her local resources to be of great help. "I would suggest talking with your counselors. They are an incredible resource who have gone through the process with other students many times," she stated. They can give you tips and support you throughout the process. Teachers and even your parents can help more than imagined," she added.
Counselors are definitely the go-to resource for questions regarding transcripts, editing essays, and whether or not you meet the course requirements for certain schools. They also will write your recommendation letter, so it is very important that you meet with them frequently so that they will be able to make your letter stand out. I found my counselor to be one of the best sources of information as she was able to provide me with immediate answers regarding all of my questions and application details, and she also made great suggestions on my personal statement.
The most underrated part of your application
Many people believe that GPA and standardized testing scores are the two factors that ultimately get you into college. Though they carry a notable amount of weight in your decision, they may get you to the door but not necessarily through it. Recommendation letters, essays, your extracurriculars, and even our demonstrated interests can hold varying amounts of weight in your application.  It is important to not overlook these parts of your profile.
"I think the essays are the most underrated for sure. There's just so many different ways you can handle them because they're so open ended," stated Bruce Reier, a senior at Green Hope. "I also found it enjoyable to read my peers' essays, as we all had distinct writing styles and life experiences to write about."
In other words, essays can be a way for the admissions officers to understand who you are as a person, what life experiences created the version of you that they are seeing, and how you will use your story to contribute to their community. The essay can also go a long way in making up for potential weaknesses in your application.
"Most people assume that good grades and extracurriculars are all you need to get in, but I think a great essay can really make or break your application," said Addie. "Also, if you aren't sure if you have the grades to be accepted into a particular school, writing an amazing essay can give your application the boost you need…"
After attending many webinars hosted by colleges and student organizations, it was evident that essays could save an applicant from being turned away from admission to a college. When writing your essay, it is important to stay away from the cliche topics about which may students write. Talk about what makes you unique; this is your own personal narrative that no one else will have. Colleges want to see how they will benefit from having you not just how you will benefit from being at their school!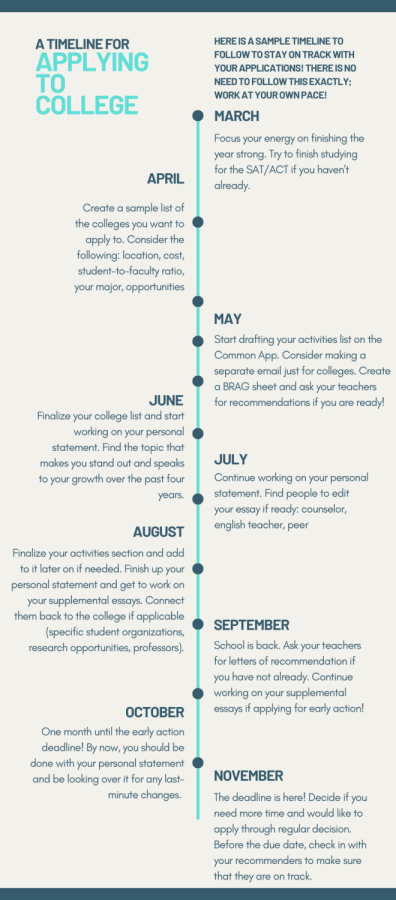 Learn From Our Mistakes
I, along with many other seniors, definitely felt that there was something that we could have done differently to make the whole process easier.
"I would definitely spend more time researching each and every college before applying to get a more condensed list of colleges," stated senior Arpita Dasika. "I'd also probably have started writing my Common App essay over the summer instead of after school had started," she added, touching on Addie's sentiment of taking advantage of the time you have over break to avoid committing yourself to too much once classes start.
Similarly, if I could change anything about my experience with the college application process, it would be to build my college list early. I spent much of my time a week or two before deadlines constantly adding and removing colleges from my list simply because I did not know why I wanted to go to some of them. I would definitely recommend looking at the virtual webinars hosted by the colleges you are interested in to learn more about what they have to offer. By doing this, you will already be ensuring yourself success!
Lasting Note
The college application process can definitely be intimidating. As long as you ensure that you start early and keep yourself organized, you will be able to maneuver through the process much easier and with less stress. Most importantly, though, don't let yourself be overwhelmed by everything you may have going on. The last thing you want is to be burnt out by the time you start applying to college, so take a break every now and then!