Green Hope Marching Band ends season on a high note
After months of blood, sweat, and tears, the Green Hope Marching Band has finished yet another successful season. The marching band has been marching and blasting chords all over the place within the last two months. They had five competitions this season, and traveled to Panther Creek High School, Delaware, Winston-Salem, Sanderson High School, and Cary High School. The marching band has been putting in an enormous amount of work day in and day out with daily practices since the beginning of summer.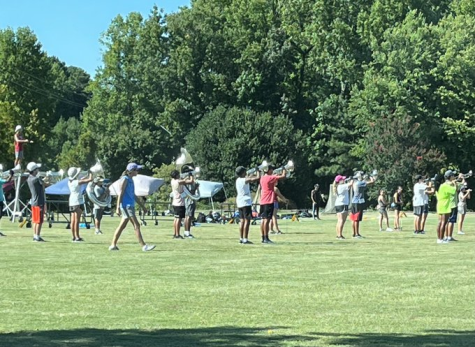 The Green Hope Marching Band practicing in 92 degree weather (Green Hope Band via Twitter)
Two memorable achievements from the marching band's season include a fifth place finish in the Bands of America competition in Delaware and a second place finish in the Captial Expo competition at Sanderson High School.
The Green Hope Marching band had their final competition on Saturday, October 29, ending their competitive season on a high note with a short trip to Cary High School. 35 high schools competed in this fierce competition.
Their hard work paid off as they placed first overall in the 4A class, first in percussion awards in the 4A class, first in music caption awards in the 4A class, and second in visual caption awards in the 4A class.
Green Hope Marching Band director, Mr. Creighton Flowers, described the competition as the best run of the season. "They played with a lot of energy and enthusiasm and they did a really good job every week of being better than the previous week, which was kind of our goal- to make every performance our best performance," Flowers stated, "They definitely finished on a high note," he added.
When asked about the band's overall performance throughout the season, Flowers said, "I think they did a really good job of growing through the whole season, every week they got better. Our challenge is to worry less about awards and worry about how we grow as a group, and that's what we did a really good job with." During the season, Flowers believes that the marching band did a tremendous job combining all the elements of their show with the winds, percussion, and color guard all performing phenomenally. "We did a great job of playing well, moving well, and designing well, which set us up for success," Mr. Flowers added.
Thor Svanes (25'), a mellophone player for the Green Hope Marching Band, felt that the band performed exceptionally well and was proud of how they ended their season. "There's definitely some more things we could work on, but overall I'm really glad with how it went," said Svanes.
Svanes thought that this year's competitive season was an immense success and was happy to be a part of it. "It was a really interesting choice to go with at the start, the idea of a conversation–a common idea in music where two sections go back and forth talking to each other. So to make an entire show out of it was interesting and had a lot of potential," said Svanes. He believes that the idea worked out well, which can be seen through the success the marching band attained this season.
The marching band looks forward to continuing their success next year. They will begin planning for their next competitive season next month, and begin practicing next summer.