As the flagpoles at Cape Hatteras High School flap intensely in the wind, there is a loud crack of a bat. The baseball travels approximately 370 feet and hits a light pole in left center field. The culprit, Jacob Krebs ('24), last year's Green Hope Co-MVP, and conference leader in slugging percentage and home runs had just hit his third home run in the first 13 games of the season.
Senior Jacob Krebs, who committed to Longwood University in Farmwood, VA sat down with the GH Falcon and discussed his road to being a Division I commit. 
When did you begin playing baseball?
I began playing baseball when I was six in the Cary recreation league.
How do you feel COVID impacted your development?
I think it definitely hurt me because it was harder to get recruited after the pandemic ended, but it also helped too because I could work out and didn't have to worry about anything else.
How did your baseball skills improved over COVID?
My skills definitely improved, and I had a home gym, which helped a lot.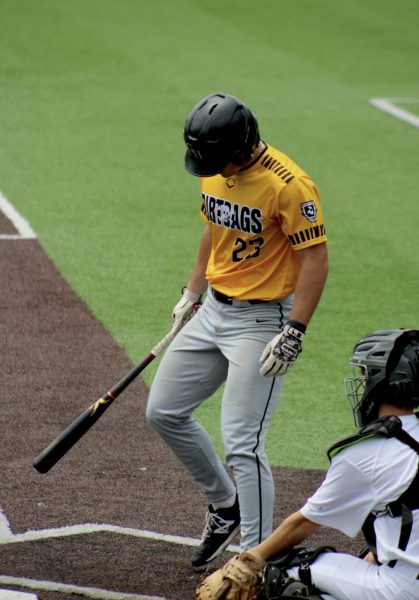 In the summer what does your schedule look like?
I eat in the morning–normally in a day I eat a lot, probably about 5,000 calories. I then go to the gym, normally 15 hours a week. I then go hit for 60-90 minutes at Green Hope or Thomas Brooks, repeating that process every day.
What does your winter schedule look like?
In the winter I hit less outside, and I focus on lifting. We're supposed to take time off from throwing so I mainly work on building my strength.
What made you choose Longwood University?
Definitely the coaches, I felt like I had a connection with Coach Ox (Oxendine). It felt like home, it is pretty similar to this area, it felt like it was always home, and I also loved the campus.
What are you looking forward to for your last high school season?
Obviously I want to make playoffs, because we haven't yet in my career, have a successful season, improve from last year. I also hope that we make a playoff run because we have an experienced team with a bunch of talent.
As Krebs looks forward to his future beyond Green Hope, he has many goals set for his last season with the team.