Midseason sports roundup
Men's Basketball: 
Despite the rocky start to the season, Green Hope's Men's Basketball team managed to gain several wins under their belt against Athens Drive, Apex Friendship, Middle Creek, and most recently, J.F. Webb. The team is currently 4-10 and top players include Bence Koloszar ('23), averaging 12.9 points per game, a field goal percentage of 45%, and 7.9 rebounds per game, Walker Hamilton ('23) wth an average of 2.0 assists per game, and Grayson Cuffe ('24) averaging 1.7 blocks and 0.9 steals per game. The team has upcoming conference games at Green Level on January 10 and Apex on January 13.
Women's Basketball: 
Green Hope's womens basketball team started its season with a bang, winning five games in a row. While the team had a couple of rough losses afterwards, they were able to follow up with two wins. The team's current 7-5 record has already improved tremendously compared to last year's record of 4-18, but the players plan to stay focused in order to continue their success. Some high performers include power forward Abigail Brown (with an average of 16.7 points per game, 8.5 rebounds per game, and 1.2 blocks per game), Sophia Fralin (with a field goal percentage of 59%), and Khasidy Boston (with 3.0 steals per game).
Indoor Track: 
Starting off the season strong at the Wake County Polar Express meet, Owen Zalc, Christian Wright, Cobe Wright, and Kaiden Granko placed second in the 4x200m relay. The following week at the SWAC Polar Bear meet, Green Hope placed second once again in the 4x200m relay, and Sarah Smith placed first in the 3200m with an impressive time of 13:32.50. In late December, Sebastian Percival-Shim placed first at the 500m run in the Wake County Reindeer Classic, with a time of 1:08.89. 
Pole vaulter Anastasia Jeffcoat's performance has consistently placed her in the top three at meets throughout the season, with a record of 8'06.00″. Indoor Track runner Miguel Carrasco Gomez ('26) has promising hopes for the rest of the season, saying, "We've all been constantly improving in our events and hope to keep improving."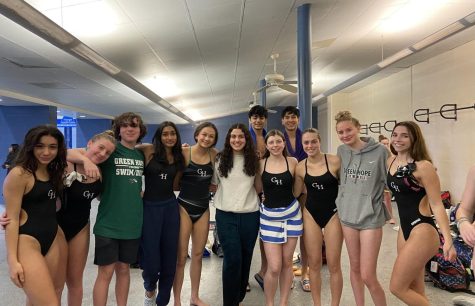 Men & Women's Swim:
The Green Hope Men & Women's Swimming is having a phenomenal season, being undefeated and racking up points for the team. Starting off with a 336 point win against Cardinal Gibbons, Apex and Fuquay Varina on November 22; the team followed through with a 309 point win against Enloe, Green Level and Needham Broughton on December 12th. As the season went forward– on December 19th the team had another win with 362 points against Apex, Middle Creek & Millbrook. On January 7th, Green Hope clutched a close win by 326 points against Apex Friendship, Green Level, and Panther Creek. 
The closest team win so far was on January 7th and was secured by two relays; the Women's 400 yard free relay consisting of Meredith Whelehan ('25), Kyley Lloyd ('26), Mia Jeltema ('25), and Andie Quisumbing ('24) as well as the Men's 400 yard free relay consisting of Landon Lloyd ('24), Lucas Kehn ('24), Brian Farrell ('24), and Colin Whelehan ('23). These two relays at the end of the competition took over Apex Friendship's lead and had Green Hope victorious by only 5.5 points. With an upcoming meet on January 16th against Cardinal Gibbons, Heritage, and Knightdale and the SWAC Conference Meet on January 21st; the team is hoping to finish what they started and advance to Regionals and State Championships on the highest note.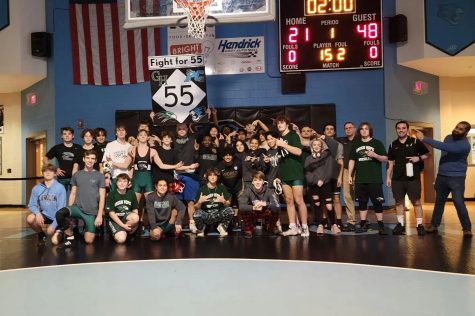 Wrestling: 
Green Hope Wrestling had an eventful month with a 48-21 win against Panther Creek on December 7, a 50-28 win against Middle Creek on December 14, a WRAL event on December 17th at Knightdale High School, and wins against Holly Springs and Southern Durham at the senior night on January 4th. However, it wasn't full of victories as the wrestling team faced a loss against Cary High School on December 20th. John Domencic ('23) placed first at the WRAL event for the 285 lbs weight class, Jackson Ealy ('23) placed second for 132, Hutson Catullo ('26) placed eighth for 120, and Ariana Anampa ('26) placed fourth for girls 120. 
As of January 1st, Domencic leads with the best record at 33-1, Danny Xia ('23) is in second with a 10-1 record, and Jackson Ealy is in third place with a 27-4 record. David Preis ('23) leads with the most pins at 18, Ealy follows him up with 16, and Domencic is in third with 15 pins. When asked about his goals for this season, Domencic replied, "My goal is to be a state champion by the end of the school year". Green Hope Wrestling battles Green Level High School on January 11th and Apex High School on January 18th.