The Black Student Association: A home away from home
"
I felt it would be good for the school environment and for the black kids here to have a place to gather and be around others who go through similar experiences.
— Ethan Sturdivant
For most, Green Hope's Black Student Association is just another club, but it is a place of comfort for its members. The club held its first meeting this past February and was founded by Ethan Sturdivant ('23) after noticing the need for a safe space for black students at Green Hope. With the help of Mr. Justin McIntyre, Green Hope's Dean of Students, Sturdivant formed the club. Along the way came Tyler Spriggs ('23) and Sophia Fralin ('23), who serve as the club's co-vice presidents.
With black students representing only 6% of Green Hope's population, clubs like the BSA are essential at Green Hope to provide its members with a fun, welcoming environment. In an interview with the GH Falcon, Spriggs spoke about the struggles unique to minorities at Green Hope. "Since there's such a small ratio of black students compared to the rest of the school, it's important for the students that are there to have a space where they can hang out and share the company of those like themselves," said Spriggs.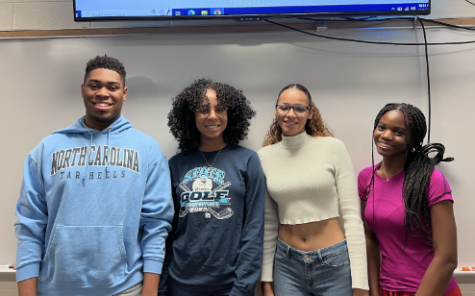 The club meets every other Thursday and consists of students from different grade levels who each bring their individuality to the table. Members participate in fun games and discussions on topics affecting the black community inside and outside Green Hope's walls.
The club also interacts with other organizations within the school. For example, three members of the BSA, Sophia Fralin, Nancee Yekeson ('23), and Aliyah Walker ('23), participated in Green Hope Chorus Program's fall concert during their performance of "Say Her Name."
Since starting earlier this year, the club's leaders have already noticed the difference the club has made. "More kids want to be involved and take interest in what's going on. That also makes me wanna do more events so that there's something for them to look forward to," said Sturdivant.  
Trinity White ('23), the BSA Social Media Manager, explained how the club has impacted her as a member and leader, stating, "I feel like I have a family within the Green Hope building."
The BSA hopes to continue to provide an outlet for black students to be vulnerable and to create a support system through various avenues and hopes to make a lasting impact on Green Hope.
"
We hope that this club will provide a safe space for its members to be in the company of people like them and engage in activities surrounding their culture.
— Tyler Spriggs