UPDATE: Men's Golf in The State Championship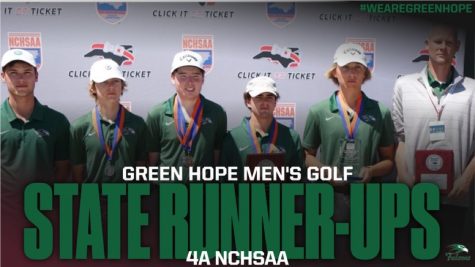 Following the conclusion of regular season Spring sports, with playoffs well underway, the Men's golf team has an exciting few days of competition. On May 9th and 10th, the NCHSAA 4A Men's Golf State Championship will be held at Pinehurst Country Club. With five Green Hope players playing, the team teed off with senior standout James Rico at 8:20am on Hole 10.
Green Hope has a history of winning both the team and individual championship within one tournament (2003, 2007, and 2009). Rico specifically has large aspirations for this tournament hoping that both the team, and himself, will win State. Since the Falcon last spoke to Rico, he's gone on to win the SWAC Conference Player of the Year, a goal he previously stated having on top of winning the regional and state competition. He hopes to keep this victorious momentum up.
The five players competing this year are James Rico, Quin Polin, Jake Lewis, Will Mitchell, and Nick Kleu. This team just won the SWAC Conference Tournament, received "Runner Up" on May 2nd at Pinehurst #6, and Coach Denton was also recently named Conference Coach of the Year. The team hopes to preserve their stamina and consistency in the toughest competition of the year.
After the first day of competition the team was ranked #2 tied with Pinecrest, and a few strokes behind leading Charlotte Catholic High School. Leading the Falcons was junior Quin Polin, who scored a 78 and is in an eight way tie for fourteenth place. Only one stroke behind is James Rico and Will Mitchell. Jake Lewis and Nick Kleu scored in the eighty's (81 and 85). 
Some highlights from day one include Jake Lewis' eagle on hole 17 and James Rico's three birdies (two of which on the back 9). Sophomore Will Mitchell played a steady game today with 11 holes being on par. Quin Polin also maintained his focus with only one double bogey in his entire round.
After a better played day two, Green Hope finished with the title of the NCHSAA 4A Runner Up State Champions. Quin Polin was 4th overall, with a day two score of 73, James Rico scored a 75, Will Mitchell scored a 79, and Jake Lewis scored a solid 80. Nick Kleu scored an 86 but wasn't counted in the team's total score. Sophomore Will Mitchell was also awarded a Sportsmanship Award for his considerate, kind demeanor during such competitive rounds of golf.
Every year the State Championship is ever competitive and challenging. After an uncharacteristic trend of bogeys and double bogeys, Green Hope was resilient on day two sealing the Runner Up title. Congratulations!