The Excellence of Men's Golf by the Numbers
Men's golf is having an impressive stretch in the final matches of the regular season. The Green Hope Falcon took an inside look at the numbers in how they've played so far in conference, and what else is in store for the team.
Overall, until yesterday's match at the Preserve at Jordan Lake Golf Club (hosted by Green Level High School) where Green Hope placed second by 1 stroke, Green Hope has had absolute superiority in the SWAC.
The team has a consistent total score of about 146. This average score has yet to be achieved from Cary, Middle Creek, Apex Friendship, Apex, Green Level, and Panther Creek. Leaving only one team, Holly Springs, to be remotely on par with Green Hope's average score altogether. The secret to Green Hope's continued success is their consistency displayed in the chart. With little variance, the greatest being a 9 strokes away from the average (from their match at 12 Oaks), the team constantly shows up ready to play.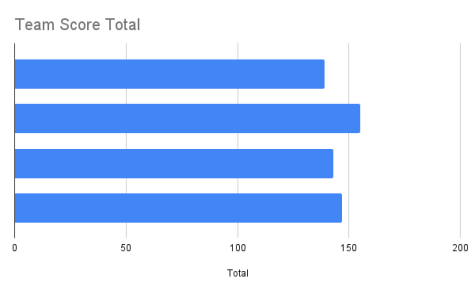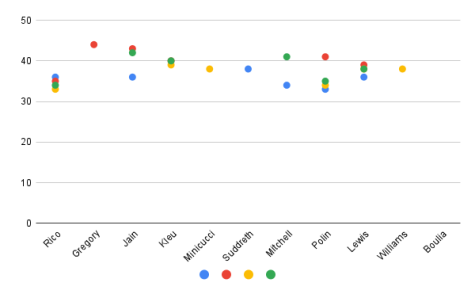 As for individual players, scoring has been very unwavering. No player on the team has scored higher than a 48, which no other team in the SWAC can proudly say.
Holly Springs gives Green Hope competition in the notable areas of average score per match, with all 6 players' scores accounted for. Lowest being best, currently the standard Holly Spring's player shoots a lower score (38.5) than Green Hope (38.9) by only 4 tenths of a stroke. Not taking into account Green Hope's RGA victory back on March 1st, among other invitational victories like Pine Hollow and Keith Hills, and specific players' lowest score of the day honors, Green Hope trumps Holly Springs with the #1 spot.
A dynamic duo that accounts for much of the team's success is players James Rico '22 and Quin Polin '23. Both have played in all regular matches and scored, at one match, a 33 (the lowest earned yet in the SWAC). The pair together averages a score of: 35.125.
Green Hope Men's Golf roster and the breakdown of how each player has scored. (Shea McIntyre)
Like mentioned before, consistency and reliability is largely demonstrated on the course. One player who's scores evidently show little margin of change and error is senior and Loyola University Maryland commit James Rico. As for what to expect in the next matches, James Rico says, "my goals for the rest of the season are to be conference player of the year, and win regionals and states as an individual. A team goal would be to win states." As for what he thinks the team is doing right based on their stellar record, Rico said, "Our team has done a good job at limiting our bad rounds. Even on our off-days we have put up solid scores. We have a lot of talent on our team."
That talent has been cultivated through the close-knit mentality fostered within the team. When asked what has helped him improve through the season, senior Jack Minicucci said, "watching Kyle Gregory's swing." Members of the golf team have learned from one another throughout the season, using each other's strengths to improve their golf game.
The team looks to win its next 3 regular matches at Devil's Ridge, Eagle Ridge, and Lonnie Poole before heading to the regional championship on May 2nd 2022. Based on the numbers, Green Hope's victories look to continue.