Prom Picture Destinations
The prom countdown has begun. Along with reservations and shopping, selecting a picture location is a key part of the big night. Photographing the memories that will stay with you for a lifetime is a crucial part of the prom experience. While there are many locations that will suffice to capture this evening, the Green Hope Falcon has compiled a selection of unique prom picture locations to stop by on prom night. 
American Tobacco Campus:
Located directly next to the Durham Bulls Stadium, this picturesque destination has it all. From cute yellow lights to a waterfall, you can't go wrong posing in your prom finery here. The bright-red brick buildings and manmade river running through the campus adds to the atmosphere. For those looking to eat after taking pictures, Mellow Mushroom is located within the campus as well as other restaurant options. Plus, this spot is just thirteen minutes from the Sheraton Hotel. 
Durham Hotel Rooftop: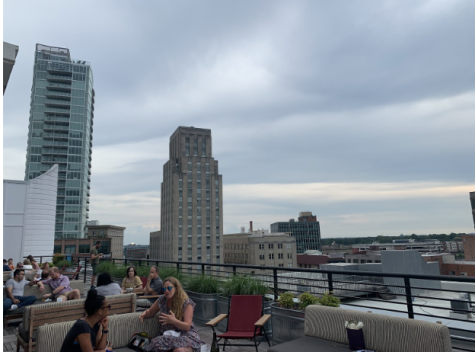 With this prom destination, you can grab a bite to eat and take your pictures. Located in Downton Durham at the top of Durham Hotel, this restaurant/bar has arguably the best view of the city. The place has a nice atmosphere, with most of the seating located outside. The food options are limited, so this location is best if you are looking for an appetizer or dessert. Also, the restaurant only allows a reservation for parties of ten or more, so it is ideal for a larger group. You'll want to make a reservation quickly because of how popular this venue is. 
Brightleaf Square:
Brightleaf Square, located in Durham, consists of two buildings and outdoor space in between. The square holds over six restaurants and multiple small stores for shopping,
so this is perfect for anyone who wants to eat close by to their picture destination. With the red brick buildings and yellow-bulb lights, this place provides a unique, interesting background for photographs.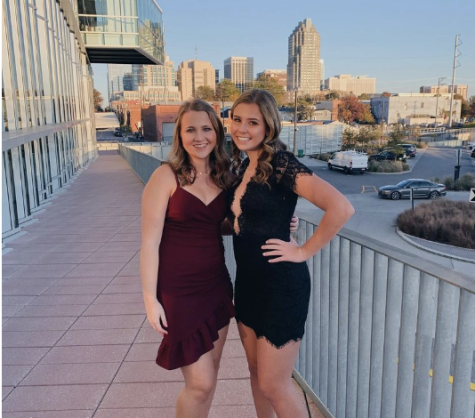 Union Station:
The Union Station is located in Raleigh, meaning it would be quite a drive from the Green Hope Prom at Sheraton Inn in Durham. However, if you aren't planning to attend the actual dance, I recommend considering this rather unique option. The Union Station is a train station, and while this may seem random, it has a very picturesque atmosphere to it. Green Hope Graduate Ella Troiano went to this spot before her senior homecoming (see picture to the left). Ella's photos display the Raleigh Skyline as well as other features of the Union Station.
Boylan Bridge:
If you are interested in combining pictures and dinner into one excursion, then Boylan Bridge might be the perfect place for you. The restaurant located on the bridge is Wye Hill Kitchen and Brewing. The view from the restaurant reveals Raleigh's skyline, meaning you can enjoy the view (and take pictures) while you eat. The menu is rather small, however, so we recommend checking that before you go. If the food doesn't appeal to you, you could always head over to Morgan Street Food Hall after you've taken the pictures. It has plenty of options and is just a two-minute drive from the bridge. This spot isn't near the Green Hope dance in Durham, so please keep this in mind. 
Duke University:
If you have ever been to Duke University, you know how charming the campus is. Plus, it is only about a fifteen-minute drive to the dance! Below, we have listed two specific places at the campus we believe are worth checking out.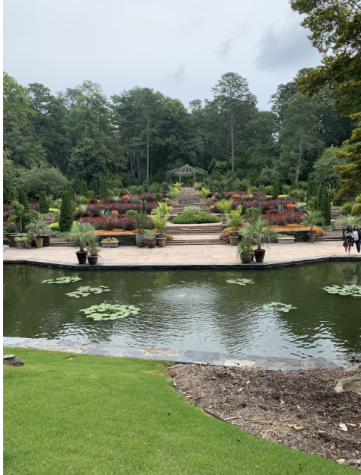 Duke Gardens:
The Duke Gardens is maintained by Duke, but open (and free!) to the public. It has over fifty-five acres to traverse. With the garden's blooming flowers and greenery, you really can not go wrong here. The garden has its own, easy-to-access parking lot, which is an added bonus for those who are going to prom with a big group. The park closes at 6:30 pm, so keep this in mind when planning.
Rubestein Arts Center:
Although you cannot actually enter the building at this time due to COVID-19, the architecture of the center would make a stop here very worthwhile. I recommend doing a quick google search to see the center's interesting design. The address for the spot is  2020 Campus Dr, Durham, NC 27708.