Wake County's Board of Education has raised school lunch prices for the 2023-2024 school year to $3.25 for elementary school students, and $3.50 for middle and high school students, raising concerns amongst school administrators and families. 
These newly introduced prices deviate from the universal free school lunch system implemented during the pandemic. Administrators and advocates are worried about worsening rates of child hunger and malnutrition as a result. 
Rebecca Bryan, a Wake County Child Nutrition Administrator, oversees roughly 25 school cafeterias and their staff. "We just make sure that we prepare healthy food for kids every day." For Bryan, school lunches play an integral role in feeding students whose families struggle to put food on the table. "Every child needs to eat. I mean, if you've ever been hungry, are you paying attention to what your teacher [is] saying, or are you thinking about what you're going to have for lunch? Nutrition is directly related to [a] student's overall well being and learning. Hungry kids don't learn."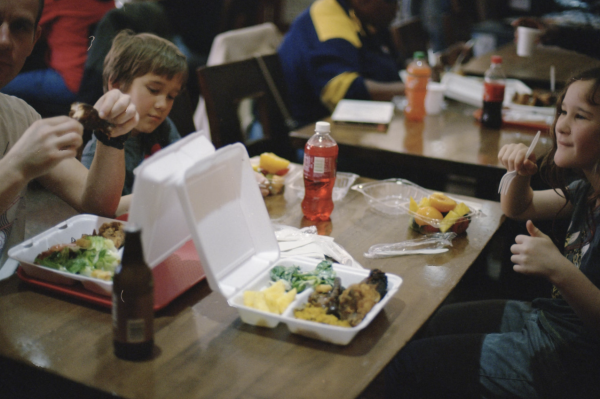 Bryan explained that the school lunch program model during the pandemic was particularly effective in feeding students and their families. "There was extra funding to support that cause," she said. "During COVID, we had many waivers that allowed for meals to be picked up and delivered to kids off site, which was wonderful. We had school buses running meals. We had volunteers when we sent home weekly boxes. We did some amazing things during the pandemic." 
Andrew Harrell, a manager at the Carolina Hunger Initiative, also emphasized the benefits that free school lunch brought during the pandemic. "The quick work nutrition staff [did] to get meals out there and accessible [during the pandemic], probably averted a secondary public health crisis of food insecurity," he said. "Now that access to those free meals for everyone has gone, [and it's] been a big setback for food [security] in North Carolina and the nation." 

Operated by the United State Department of Agriculture (USDA) during the COVID-19 pandemic, legislation initiated special waivers that allowed schools to obtain increased funding for their lunch programs even in the wake of school closures. The program ended during the 2022-2023 school year as the public health emergency for COVID-19 decreased, as many of these waivers were removed, including the waiver that made school meals free for all students. 
One year later, school administrators are still seeing the impact that its loss has. A majority of school lunch programs still have reduced and no-cost options for families that qualify; however, the process to obtain and sign the necessary forms can be complicated especially to families for whom English is a second language. Additionally, in order to qualify, strict income cutoff must be met, barring families who earn just above the requirement from accessing critical nutrition services. 
If you were to ask us today, our struggle is getting to those kids that can't get to our sites.
— Rebecca Bryan, Wake County Child Nutrition Administrator
Harrell expressed similar sentiments, saying that many families aren't able to access reduced and no-cost lunches because of their income. "We have everything from families who are as little as $100 over the income guidelines to get these free meals and have no access to them anymore," said Harrell. He's also noticed a larger demand for services from food pantries, food banks, and other nonprofit organizations. "We've heard that food banks and food pantries in North Carolina have faced larger demand because of the end of [these] emergency programs." 
Bryan asserted that the issue came down to funding. Despite increasing demands for such services from both schools and nonprofits, money allocated to such organizations and programs doesn't necessarily increase. 
"The bottom line is there's just not enough money. [But there] is a community effort that is ongoing throughout the year. There are many, many organizations that are still still fighting for more funding and providing these benefits to those [who need it]," she said. "But you know, it takes money and it's a long process, but I hope to see that one day."
Durham resident Marcella Thomspon took significant notice of this issue after the pandemic. Thompson is the founder and director of The Mustard Seed Project, which serves healthy meals to kids in local neighborhoods. The organization partners with local farmers to distribute fresh produce to families, prepares warm meals, and, more recently, brought ice cream trucks for the kids it serves. Thompson has a strong vision of further expansion for the organization, but is limited by the amount of funding she has; any funding not from donations comes from her own pocket. 
There [are] many moving parts and because much of the project is a donation-based situation. We just have to do the best that we can do.
— Marcella Thompson, Durham resident
She feels largely motivated to provide equitable access to nutritious meals to the underserved communities that much of her work targets. Universal free school lunch was, in her opinion, critical to providing resources to kids traditionally not reached in such programs. "Why can't [legislators] continue [the program]?" asked Thompson. "They have [enough] so that every child in North Carolina schools would have a [healthy lunch], but they decided that they're going to pass this because [it targets] a group of people, poor [people] who are in institutional poverty, who are in generational poverty." 
North Carolina Representative Julie Von Haefen is at a similar loss as to why further funding isn't allocated for school lunch programs in the annual state budget. 
"I don't know why, other than [the fact that] it's really just a [matter of] priority. I mean, we're still in the middle of our state budget negotiations. So really, at this point, it just comes down to priorities," she said. Like many others, she reiterates that funding remains one of the largest obstacles to future progress. "I mean, we have the money to pay for this, and, you know, to me, it's kind of a no-brainer, but you know, it's really going to be up to the people writing the budget whether they want to include this funding in there." 
Along with Representative Cynthia Ball, Von Haefen introduced a piece of legislation, House Bill 844, which would reimplement a state-funded free school lunch program. The bill remains stuck in committee since its introduction in April. 
"If we really want to be focused on improving the lives of kids in our state, these are the types of those we should be focused on."
— Julie Von Haefen, North Carolina Representative
**** It is with honor that this year's GH Falcon content is dedicated to the loving memory of our lost but not forgotten staff member Sam Dare. Sam will always be a Falcon. Take a moment to read and hear some of the amazing content from Sam: https://ghfalcon.com/staff_name/samuel-dare/ ****