Celebrating cultural diversity: Taste of China Festival
Downtown Cary rarely closes off one of its two main streets, but on April 15th South Academy Street transformed into a vibrant cultural experience. The Chinese-American Friendship Association of North Carolina (CAFANC) hosted its annual Taste of China Food and Cultural Festival, garnering over 20,000 attendees. The event aimed to build a bridge between Chinese Americans and Chinese people and aims to encourage cultural exchange between China and the United States. 
The festival was filled with local restaurants, Chinese schools, volunteer organizations and non-profit clubs. Each group set up booths where members cooked street food and sold souvenirs. 
From jewelry shopping to a traditional Chinese dragon dance, the event offered a plethora of activities to promote inclusivity within the crowd. Face painting was available for children, and a local artist painted a fan live for attendees..
Jianping Yang, Chair of the CAFANC Board of Directors, highlighted one of the popular commodities of the festival: the unique food. "Chinese cuisine is incredibly diverse and flavorful, with a wide variety of dishes that can appeal to a broad range of tastes. People may be drawn to the festival in order to try new and exciting Chinese dishes or indulge in their favorite Chinese foods," Yang said.
"
Attending a festival can be a memorable and exciting experience, with the chance to try new foods, learn new things, and have fun with friends and family. "
— Jianping Yang, Chair of CAFANC Board of Directors
The festival featured foods many attendees otherwise might not eat at home, such as boiled chicken feet, lamb kebabs and spicy chicken gizzards.
"Booths were selling authentic regional Chinese foods from Henan province, Shanxi province, Sichuan province, Guangdong province and other areas," CAFANC member Yongjun Lei said.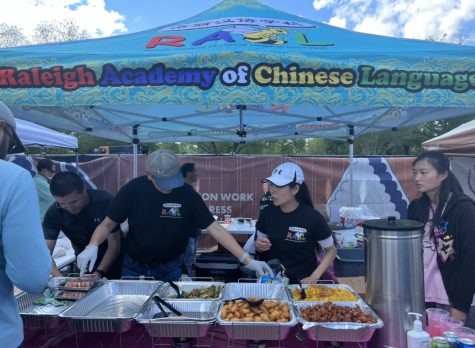 In the center of the festival, spectators gathered to watch various musical and dance performances. 
Chinese dancer Jiao Cai showcased traditional Qipao culture with her fellow dancers on stage. Cai is a member of the Winston-Salem Chinese Qipao Association and has been dancing with them since the first Taste of China festival in 2018 in Raleigh. This year, their performance was about spring with flowers embroidered on their traditional dresses and fans. 
"Chinese Qipao is a beautiful way for women to express our talent and culture," she said. 
Much like Cai, Green Hope student Trinity Qian ('24) has performed cultural dances onstage with her Chinese school in past festivals. "It's inspiring to see many people working hard to display Chinese culture through art. I know from firsthand experience how much time and effort it takes," she said.
Qian commended the association for creating an outstanding event that shares Chinese culture with the citizens of Cary. "The festival is unique because it showcases a taste of what China is really like; the bustling crowds, street food and performances. It reminds me of when I visited China throughout my childhood, and it paints an authentic picture of when I visited." 
CAFANC aims to showcase Chinese cuisine, traditions and heritage in the Triangle, highlighting the significance of cultural appreciation.