LAX All Star profile: Jake Bell
Green Hope senior Jake Bell ('23) demonstrated a high level of talent during his lacrosse career as a Falcon. Bell's outstanding play and leadership earned him the position of captain for two of his four years on the varsity team.n his four years on the varsity team.  Performing at a highest level, Bell recently reaching 100 career points and was selected as a Bull City All Star. 
Recently, the GH Falcon spoke with Bell to learn more about his lacrosse career and his plans for the future.
What made you start playing lacrosse? 
I started playing in 3rd grade because of a Y-Guides group and my parents pushed me to play at a competitive level.
What are some goals you want to achieve as a member of the GH Lacrosse team? 
I want to help build the future of the team and motivate the underclassmen to get better and love the sport.
What is your daily routine? 
During the season, my daily routine consists of going to school, then practice, then coming home to lift, and if I feel like I need extra work on my shot, I go in the backyard to shoot or go to a local field.
What is your biggest accomplishment as a lacrosse player? 
Hitting 100 career points and having 10 points against Panther Creek in one game this year.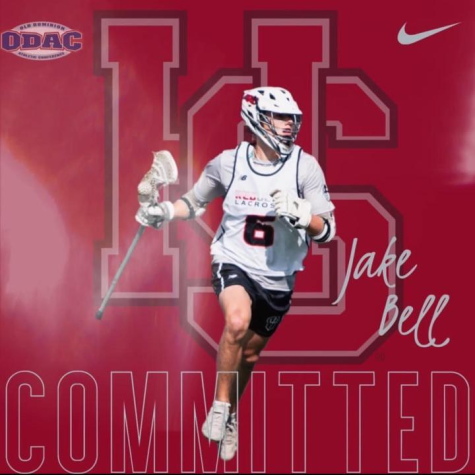 What plans do you have after high school? 
I'm going to Hampden Sydney to play lacrosse. They're currently ranked 16th in Division 3. I'm also doing ROTC there. I will come out of college as a Lieutenant in the army.
What is your favorite memory of being on the team? 
I don't have one favorite memory. My favorite part of playing here is that I get to play with two of my closest friends that I grew up playing lacrosse with, Alex Wagner ('23) and Harrison Wahl ('23), as well as being able to play on a team with my younger brother Luke Bell ('25).
 What advice would you give to your teammates and the Green Hope community in general?
Always enjoy the little things. It goes by fast. Just take it all in because you'll be looking back on these 4 years for the rest of your life.
As Bell finishes his Lacrosse career at Green Hope, the GH Falcon wishes him the best in the next chapter of his career.