Return of an R & B legend: Frank Ocean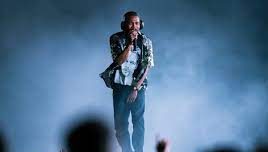 As the 2023 festival Coachella continues to make headlines, the "missing " R & B singer Frank Ocean returns to the stage. He is most well known for his popular albums "Blonde" and "Channel Orange" and for being a two time grammy winner. 
Coachella is a music festival that takes place every year in April at the Empire Polo Club in Indio, California. It features new and upcoming artists as well as old fans' current favorites. This year it took place on the weekends of April 14th to 16th and April 21st to the 23rd. 
Frank Ocean took a break after the passing of his brother and has been longingly missed by all his fans. After announcing his scheduled performance at Coachella, rages of excitement were found across all social media platforms. 
Influencers at the event were sharing live updates with their fans, while even more excitement was shown by the people who couldn't be there to watch their favorite artist perform for the first time. Ocean's official listing as a headliner of the event has brought in a great surge of people to purchase tickets for the already extremely popular music festival. He performed alongside BadBunny and Black Pink on April 14th, 2023. 
Post-concert, extremely mixed reviews are being shared. Large numbers of people describe the concert as a major letdown, saying that they paid large sums of money for his set to barely be an hour long. The artist seemed to be having a bit of a hard time on stage, which was understandable for his other fans as they knew it must be hard for him to be back on stage after all this time. The reason Ocean decided to accept the Coachella offer was because he felt it was what his brother would have wanted, so the day was thought to have been an emotional one for him.
Three days before weekend two of Coachella, Ocean announced that, on doctors orders, he is not to perform for the second time. It is apparent that he has suffered two fractures and a sprain in his left leg. Ocean has made the statement that, "It was chaotic. There is some beauty in chaos."
Fans are left to wonder if this injury was meant as an excuse to not come back because of all the backlash or if the star genuinely is injured. His performance and activity all throughout the festival has left a lot to the fans' imagination with his announcement of possible new music and his strange injury. What Frank Ocean will do and where he is going next will definitely be on many people's radars.