Dreams Into Reality: 2023 Dreamville Festival
Biggest names of hip-hop and R&B leave a lasting impact on Raleigh and its citizens.
Local residents and travelers gather for one of the biggest music festivals in North Carolina, J. Cole's Dreamville Festival. Annually held at Dorothea Dix Park in Raleigh, the event continues to celebrate community and diversity each spring. Stadium headliners such as Cole himself, Drake and Usher converge with dozens of independent-owned businesses, artists and organizations showcasing all that Raleigh has to offer.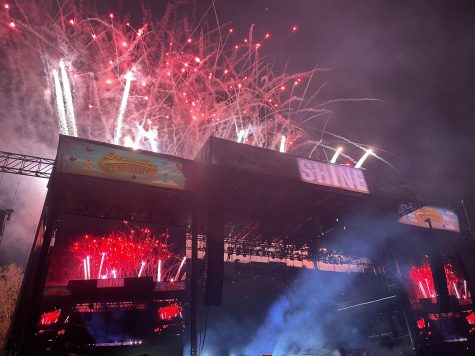 Green Hope Student, Elijah Kelly ('23) was one of the many who went to this event. "It was really well organized despite the rain delay. There was great food, and I feel like all the artists really brought their energy into the show."
Connecting through a variety of audiences, the festival brought many generations together over a shared interest. "There were a lot of music lovers, mainly rap, but I feel like there were a lot of older people too. It wasn't just younger people like me. I think a lot of music was gauged towards the older audience because there were people like Usher who have been around for a long time," stated Kelly. 
Dozens of artists ranging from Summer Walker, 21 Savage, Lil Wayne, City Girls and Lil Uzi were brought out on stage. Fans reveled over the unique pairs that usually would never perform together. 
There were many structures showcased by local artists as well. "In the middle of the whole thing they had a structure made by artists. It looked like a face, with stars. Everybody was taking pictures with it […] I thought it was a really cool touch," added Kelly.
Impressed by all there was to offer, along with the organization of the festival, Kelly praised the organizers for their ability to handle such a large crowd "I think J. Cole did a great job of allowing everybody to just enjoy themselves and have a good time […] It was worth the while for me."
One of the main reasons Kelly participated in this event was to see his favorite artists perform in person, Drake. "His music is really catchy, some of them I can relate to on a certain level. Such as relationships," stated Kelly.
"
Just being in the presence of those artists and watching them perform was really special to me."
— Elijah Kelly ('23)
Playing a large role in his childhood, Kelly has been listening to Drake's music since he was 12. Getting to finally see him perform in-person was like a dream come true.
Former Green Hope student Claire Sciandra ('21) also holds fond memories of Drake from her youth. In an interview with The GH Falcon, Sciandra touched on what seeing him perform live meant to her. "I've loved his music since high school and it was such an amazing opportunity to see him live considering how frequently I listen to him," Sciandra stated.
Sciandra traveled from Florida to watch her favorite artists alongside her best friends. Although it came with standing for hours on end and barely using the bathroom, Dreamville was an experience she will always remember. She recommends it to anyone who is considering going in the future. 
Since the festival was held in her own city, Sciandra was able to observe the effects Dreamville propelled. "It was amazing to see Raleigh transform into such an electric city and to see so many different states and countries come together for the same reason and celebrate great music," Sciandra exclaimed. 
For audience members like Sciandra and Kelly, the festival sparked a wave of reminiscence. Not only did Dreamville celebrate hip-hop and R&B but was able to bring unity between the generations of Raleigh. 
"
I think it really showed how we can all bond around something, in this instance, music. I feel like everybody can come together regardless of what's going on in the world."
— Elijah Kelly ('23)