All-American: Wrestler John Domencic's journey
State Champion, All-American and Title Holder: wrestler John Domencic ('23) has spent his senior year dominating the wrestling mat. However, his wrestling journey as a wrestler started four years ago.
"At first I joined the wrestling team because I was in football and everyone said it would help, but then I ended up liking wrestling more," he said.
This season, Domencic competed in regional, state and nation competitions–all while competing in one of the most challenging divisions.
"Regionals was pretty easy until finals came around. I had to go against my year-round club partner and he definitely proved to be a tough competitor," he said. Domencic won that match, placing first overall in the 285 weight class at the NCHSAA MidEast Regional Championship.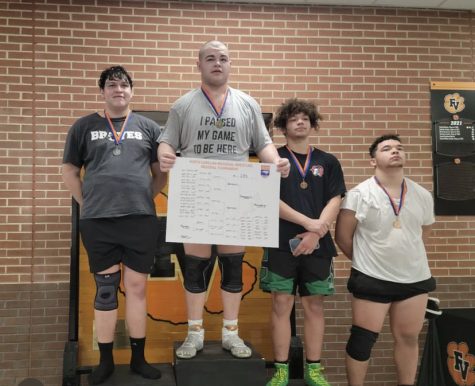 On Feb. 18, Domencic wrestled in the NCHSAA State Championships. 
"When it was time for states, I actually got really sick, so I definitely tried to compete to the best of my ability," he said.
He secured third place overall at states, sending him to the NHSCA national competition in Virginia. Domencic's weight class had 64 competitors, and he placed fifth overall while earning the esteemed All-American title–only given to those who qualify for the top eight in the nation.
Domencic credits his success to his everyday lifestyle. His week consists of jump roping in the morning to stay light on his feet, weightlifting after school and going to his year round-club, RAW (Raleigh Area Wrestling) practice straight afterwards.
"Always trust the work you put in. Always be out-working your opponent and when you do that, you don't have to worry," he said. 
"
Always be out-working your opponent and when you do that, you don't have to worry."
— John Domencic ('23)
Domencic is committed to the University of Mount Olive for wrestling, and plans to continue his competitive career while studying agricultural business.
"Wrestling got me out of a bad place in my life and the sport helped me hone into my skills," he said. 
Domencic's past four years of competition, minor injuries, high school championships and titles is concluding, but he is ready and excited for the next chapter.