DECA 2023: A Ticket to Florida
On February 23rd, Green Hope DECA competed at the Career Development Conference (CDC), a state competition with thousands of competitors from all over North Carolina. The club traveled to Greensboro, North Carolina, for competition, ending the successful weekend with 24 finalists and 13 international qualifiers.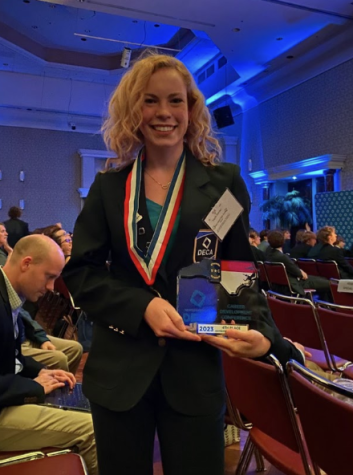 CDC consisted of around 3000 people competing in individual or team events. It lasted three days, during which members competed, attended workshops, attended ceremonies, and made personal connections. The top five highest scorers from each event qualified for Internationals.
The International Career Development Conference (ICDC) is happening on April 22nd this year in Orlando, Florida. The 13 qualified individuals from Green Hope will represent North Carolina as they spend four days competing in their events on a global level. ICDC qualifiers also have the opportunity to attend workshops to network or to prepare to compete.
The Thrive Award given to Green Hope DECA has granted three additional members to attend ICDC. Head advisor, Mr. Harrison Ray, explained, "This award has allowed these students to go to Florida in terms of attending high-level workshops administered by professionals in the business world."
Aakanksha Kulkarni ('23), Co-President of Green Hope DECA, shared her experience. "DECA has given me numerous connections and new bonds. Going to CDC and seeing people from all over the state has me anticipating ICDC in Florida," stated Kulkarni.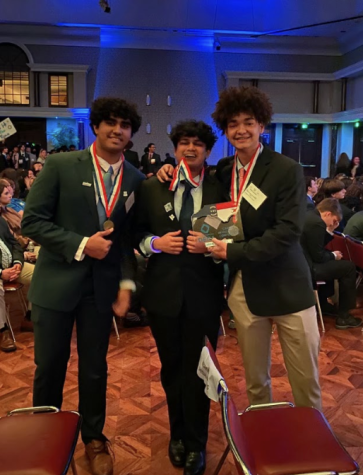 Kulkarni explained that a member could participate in two types of competitions at CDC and ICDC: roleplays and written events. She stated, "A written event can be prepared beforehand. My team members and I did a written event in which we made our own product plan and pitched that to a judge at competition." Contrarily, roleplay is where a predetermined prompt is given at a competition. The competitor is given 10 minutes to prepare to go in front of the judge to portray, analyze and troubleshoot the prompt's conflict.
DECA offers students the opportunity to learn more about their passions in the business world. Green Hope DECA has expanded its club this school year, having twice the number of members. Mr. Ray commented about the significance of students being in DECA, stating, "It has given students a way to practice interview skills, critical thinking and ways to get more comfortable with public speaking."
Co-president Rupali Kishore ('23) explained more of what the club entails. She stated, "DECA gives students the tools needed to apply skills into real-life business scenarios, getting feedback from judges in that desired field and using that feedback for future careers." The club offers workshops and meetings to discuss jobs in business management and administration, entrepreneurship, finance, hospitality and tourism, marketing and personal financial literacy.
ICDC is under two months away, and the 13 qualified competitors from Green Hope are preparing for competitions.