Mason Dean: An underclassman on top
As a sophomore shooting guard with the highest field goal percentage on the basketball team, Mason Dean made a name for himself on the men's Varsity Basketball team. Beyond that, Dean led the Varsity Baseball team in stolen bases his freshman year. As he wraps up his basketball season and moves into his spring season, the GH Falcon sat down with him to talk about his athletic career thus far.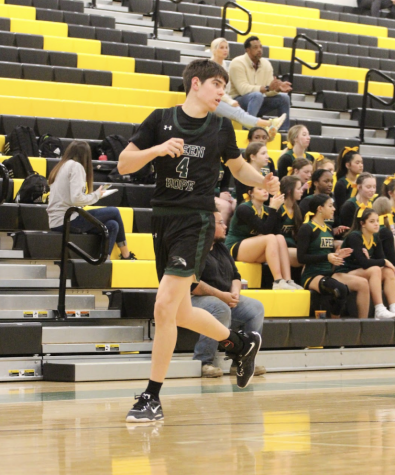 How long have you been playing sports?
I've been playing basketball since about 4th grade, and I started playing baseball seriously in 7th grade.
What has your experience been as a Green Hope athlete?
My experience has been excellent. The basketball team over the winter was very fun. Bence and Walker were our two senior leaders, who were great. They were very supportive. Baseball last year was also fun. I was a freshman, and I know some freshmen have a rough experience, but it was a great experience for me. I love playing, and my teammates were really good.
What has your greatest athletic accomplishment been?
Over the winter, in our final conference game, I had 21 points. It was also exciting because all the seniors had a good game, and we were able to get a last conference win. 
What do you hope to see from Green Hope basketball and baseball in the future?
Next year, for basketball, I want our team to be able to make it back to the state playoffs. This year we missed out on that, which broke a streak of going to the playoffs for many years in a row. For baseball this year, I hope we make playoffs as well. I think we have a good enough team, and last year we had a lot of young players, but this year we have a lot more experience.
What advice would you give to other athletes?
I would say that going to the offseason workouts is very helpful, and the coaches like to see what you can do at those workouts. It also helps build a repertoire with the other teammates you'll be playing with.
With these early successes, Mason Dean is a name to remember. He looks forward to the rest of the baseball season.