GH Theater makes history at NCTC State Competition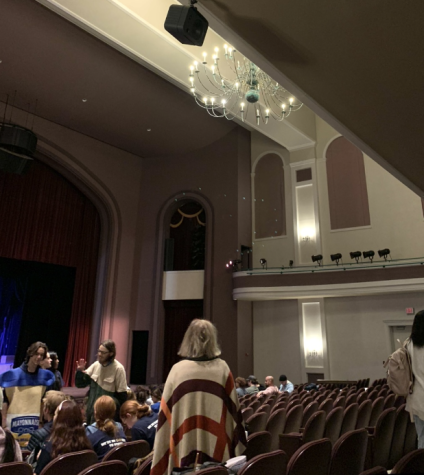 After regionals in early November 2022, Green Hope Theater's Metamorphoses production was selected to attend the North Carolina Theater Conference (NCTC) State Festival for the first time in school history. It made them one of 16 high schools that traveled to Greensboro College on November 17th and 18th to compete against each other.
In Greensboro, GH Theater spectacularly performed scenes from Metamorphoses by Mary Zimmerman, a play about mortals and how they were affected by the greek gods. The sets performed were stories of King Midas, King Ceyx & Queen Alcyone, Erysichton and Baucis & Philemon.
As a result of to company's successful performance, four talented individuals won awards. Though Green Hope as a collective did not place at states, they did celebrate Ria Rohilla ('24) for winning Excellence in Production Design and Technical Direction, as well as Natcha Sapsuwan ('23), Cloude Fewkes ('24) and Amarah Pearson ('23) for winning Excellence in Narration.
As a narrator, Amarah Pearson helped to tell the stories of King Ceyx & Queen Alcyone and King Midas, acting as an ensemble for the remaining tales. "I was incredibly proud to be given this award among such insanely talented theater students from across the state. Hearing my classmates cheering us on while we went to receive our awards was so heartwarming," said Pearson.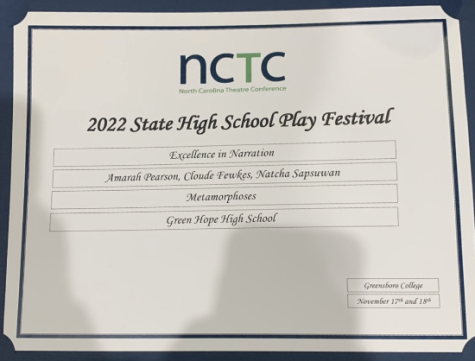 The rest of the crew, although leaving without awards, still had vital roles in the performance going smoothly. This was the first time Emma Wiatrak ('25) competed in an NCTC competition and was the stage manager. She said, "It consisted of me calling cues during shows and assisting Mr. C, our director, throughout the rehearsal process." Without Wiatrak to fulfill these responsibilities, the theater company would have had a more challenging time preparing for the ultimate performance.
GH Theater is paving the way for a decorated future and expanding recognition across the entire state. With all the members' hard work showing out, the company has more drive than ever to keep improving.