Tết: Bringing Vietnamese culture to Raleigh
Last Sunday, the famous Dorton Arena, located on the N.C. State Fairgrounds, was filled with the sounds of booming drums, the sights of colorful costumes, and the smells of delicious foods. The cause of such a celebration was one of the biggest Vietnamese holidays of all time: Tết. After a three-year suspension from Covid, Tết had finally returned to the Raleigh area.
"
I recommend that people of other cultures participate in Tết because it allows us to share our culture with others."
— Kate Phan ('25)
Tết, or Tết Nguyên Đán, is a celebration of the Lunar New Year which usually occurs in January or February. This year's zodiac animal is the cat, which predicts that 2023 will be a year of hope. Many Vietnamese families clean their homes, buy new clothes, and cook special dishes to prepare for Tết. 
While multiple different Tết celebrations are held across the United States, this specific festival is hosted by the Vietnamese-American Association of Raleigh (VAAR) on the State Fairgrounds each year (except for the Pandemic years). 
Planning for the biggest Vietnamese holiday was no easy task. Mr. Chanh Nguyen, a member of the VAAR's board of directors, explained the long and arduous process behind the event. "Reservations for the venue usually have to occur a year or more in advance, while band and singer reservations are usually six months to a year in advance," he said.
There was no shortage of activities at the festival, a testament to the careful planning that went into it. There were game booths, cultural stations, and food vendors. 
For many, food was the best part of Tết. "My favorite part about Tết would definitely be the food because there are so many restaurants and vendors that come to the festival," said Kate Phan ('25), a yearly Tết attendee. The vendors sold a variety of delicacies, such as pandan waffles, bánh mì (Vietnamese sandwiches), and phở.
Festival-goers could also settle down to watch performances on the central stage. Performances were not limited and could be traditional, modern, or from a completely different culture. They were carried out by local Vietnamese groups, and showings included traditional dances, Taekwondo, and K-pop.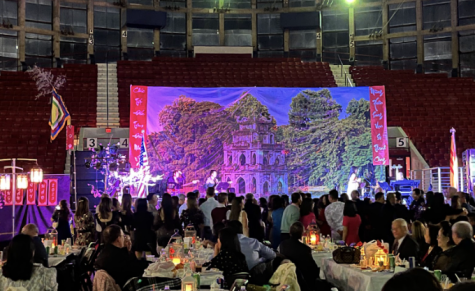 "My favorite performances were both the K-pop performances and the traditional dances," Phan said. "Although it isn't from Vietnamese culture, K-pop is something that many youths enjoy, and I love watching the intricate choreography."
While Tết is a Vietnamese holiday, people from all cultures and backgrounds are welcome to join the celebrations. "We love inviting local officials, friends, and colleagues to attend and learn about our culture and try out the wide variety of food during this festive event," Mr. Nguyen said. "We have also made every effort to include both the Vietnamese and English languages in our program for our different audiences."
Overall, Tết is a chance for the Vietnamese community to "meet old and new friends and see people enjoy and learn about our beautiful culture," as Mr. Nyugen said.