NFL Playoff preview: What to watch for
After a long, controversial, exciting, and competitive few months, the 2022-23 NFL regular season has come to a close. After 18 weeks of fierce competition, the field has been narrowed down to 14 competitors for the Lombardi Trophy. Who is in? How are they looking? What are my predictions? Let's get started on the NFL Playoff Preview.
Just in case you aren't aware, the NFL Playoffs function relatively simply, with 7 teams in each conference and the one-seeded team getting a first-round bye. The higher-seeded team gets a home-field advantage. Here's the list of playoff teams:
AFC –
Kansas City Chiefs (First round bye)
Buffalo Bills (2) vs. 7. Miami Dolphins
Cincinnati Bengals (3)  vs. 6. Baltimore Ravens
Jacksonville Jaguars (4)  vs. 5. Los Angeles Chargers
NFC –
Philadelphia Eagles (First round bye)
San Francisco 49ers (2) vs. Seattle Seahawks (7)
Minnesota Vikings (3)  vs. New York Giants (6)
Tampa Bay Buccaneers (4) vs. Dallas Cowboys (5)
Let's start with the one seeds. Obviously, both of them are in good shape as they have earned their spots as number one. 
The Kansas City Chiefs have Patrick Mahomes as their quarterback, which means they are a Super Bowl favorite. He's the surefire MVP winner this year, performing better than any quarterback in the league while playing with one of the least-loaded offenses talent-wise. The defense has played well this year, despite lacking big-name talent compared to many others in the league. They've won games this year with little struggle, showing their power on the field. The Chiefs may not win it all, but they'll certainly have a shot at it. 
The Philadelphia Eagles are the best team in the NFC. Their seeding accurately reflects that. Quarterback Jalen Hurts got injured toward the end of the season, and their performance dropped off slightly with Gardner Minshew replacing him, but Hurts will be back for the divisional round, and the Eagles are a strong force to be reckoned with. They have no weaknesses. They are well-coached, elite at all levels in the offense, and their defense is chockful of bonafide ballers. This team is a complete and proven competitor. They're my pick to win the NFC.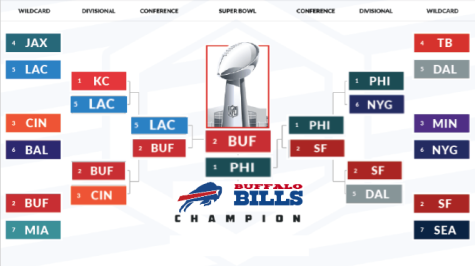 This is my predicted bracket, read on to hear my reasoning behind it.
Now, let's go game-by-game. 
Saturday, January 14th – (7) Seattle Seahawks at (2) San Francisco 49ers – 4:30 PM on FOX
The Seattle Seahawks barely scraped into the playoffs thanks to an overtime field goal to give them the win against the Rams. And they needed the Lions to beat the Packers, which they did by converting 4th and two late in the fourth quarter on Sunday Night. Quarterback Geno Smith has had a career resurgence this year, playing ball at a Pro Bowl level after being a career backup. Their rookies have balled out this year. This team can win games, but they also are extremely vulnerable and have lost a lot this season. The 49ers have so much talent on offense and a stalwart defense. But how they fare this playoffs will come down to rookie quarterback Brock Purdy, Mr. Irrelevant. He's played well so far since becoming the starter, but will he stay on point in the high-pressure environment of the NFL Playoffs? Only time will tell, but I have the 49ers in this matchup. 
Saturday, January 14th – (5) Los Angeles Chargers at (4) Jacksonville Jaguars – 8:15 PM on NBC
The Chargers have been playing great football and are one of the hottest teams in the league. This matchup is extremely interesting because the Jacksonville Jaguars are also red-hot and on a winning streak. I just think that the Chargers firepower overwhelms the Jaguars in a close game. The Chargers offense is loaded, with studs at every position, and is led by Justin Herbert, one of the best quarterbacks in the game. Their defense also has multiple of the best players in the game. The Jaguars are young, exciting, and led by second-year quarterback Trevor Lawrence. I think the Jaguars have a ton of potential and may be dangerous in the upcoming years, but this year isn't theirs. The Chargers outlast them in a duel.
Sunday, January 15th – (7) Miami Dolphins at (2) Buffalo Bills – 1:00 PM on CBS
The Bills have been a juggernaut all season. The preseason favorites to win the Super Bowl by a country mile, this team has all the talent. But what makes them dangerous is that they're well-coached and composed. And now, they have all the motivation in the world after the Damar Hamlin injury, shown by their absolute demolition of the Patriots, a playoff contender, in Week 18. On the other hand, the Dolphins are injured, flailing, and barely scraped into the playoffs. Quarterback Tua Tagovailoa may come back in time for the game but likely won't play well due to his multiple concussions this season. The Dolphins have proven they have what it takes to beat the Bills this season, but that was months ago, and they were heavily injured at the time but are much healthier now. I have Bills by multiple scores.
Sunday, January 15th – (6) New York Giants at (3) Minnesota Vikings – 4:30 PM on FOX
In my opinion, this is the fairest game in the Wild Card round. The Vikings are not as good as their record shows, and the Giants are a near-even matchup. The Giants started really well this season, slid, then finished strong to make the playoffs. Quarterback Daniel Jones is thriving under new head coach Brian Daboll, and this defense is staunch. Running back Saquon Barkley is a game-changing player. Meanwhile, the Vikings have a 13-4 record but a negative point differential. What does that tell you? They barely beat bad teams and get destroyed by good ones. However, this offense is consistent and features the best wide receiver in the league, Justin Jefferson. The defense can sometimes be porous, but they can also come through in big moments. The Vikings may be frauds, but they have proven they can win close games. This is going to be a very close one, and I'm hesitant to pick a winner, but I will go with the Giants by a field goal.
Sunday, January 15th – (6) Baltimore Ravens at (3) Cincinnati Bengals – 8:15 PM on NBC
The Bengals are hot right now. Quarterback Joe Burrow is unstoppable, and every facet of the offense is elite. The defense is very solid. They've won eight straight with multiple wins over playoff teams. Contrast that with the Ravens, a very shaky team right now. This offense cannot function without quarterback Lamar Jackson, and it's seeming like he won't play this game. Whether or not that's due to his injury or the fact the Ravens won't pay him, who knows? The defense is good, but it doesn't matter when you're playing a third-string quarterback who throws three picks a game. The Ravens faced the Bengals in Week 18 and got solidly smacked, so I expect the Bengals to take this one with room to spare. 
Monday, January 16th – (5) Dallas Cowboys at (4) Tampa Bay Buccaneers – 8:15 PM on ESPN
The Cowboys looked like legit Super Bowl contenders, and then they lost 26-6 to the Commanders in Week 18, so I have doubts. What I do know is that this defense is elite, full stop. Any offense in the league will have a hard time against it. And this offense can score and play extremely well but is somewhat hindered by quarterback Dak Prescott's inconsistent play. I don't know if the Cowboys will advance far in the playoffs, but they will win this game as they're matched against the worst team in the playoffs. The only good thing about the Buccaneers is that they have Tom Brady, and he's as clutch as they come. But, he's also played subpar this year, by his standards, and this offense is decrepit with a porous defense. This team finished the year with a losing record and only made it to the playoffs because they are the least terrible team in a division full of terrible teams. The Cowboys will win by at least two scores. 
To sum up, here are my Wild Card round score predictions:
Seattle vs. San Francisco: San Francisco wins 27-13
Jacksonville vs. Los Angeles: Jacksonville wins 27-24
Miami vs. Buffalo: Buffalo wins 37-24
New York vs. Minnesota: New York wins 23-20
Baltimore vs. Cincinnati: Cincinnati wins 30-19
Dallas vs. Tampa Bay: Dallas wins 28-14
As in any playoff season, be sure to keep an eye out for upsets or surprising results. This year is sure to be interesting!