Students dare to care: Building a nonprofit
Although community service is oftentimes encouraged for students to partake in throughout school, the desire to serve can also stem from one's relationships. In July 2022, Green Hope High School students Jana Tagel-Din ('24) and Ashna Luhadia ('24) collaborated to start Care to Care NC, a non-profit organization, to better meet the needs of the Triangle, specifically hospital patients.
In an interview with the GH Falcon, the co-founders went in-depth regarding what prompted them to start a non-profit. 
"In May 2022, my mom was diagnosed with stage 4 colon cancer. That whole situation and how difficult it was for me inspired me to put a smile on the faces of those going through similar experiences," said Tagel-Din.
She continued to explain how her personal situation ultimately transcended the idea of helping other hospital patients in the area.
"Seeing my mom's happiness when we'd buy her gifts motivated me to inflict that happiness onto other hospital patients. I just want them to know how strong they are, how important they are to us, and how much they inspire us every day," added Tagel-Din.
Co-founder Ashna Luhadia ('24) shares this drive for service. "I wanted to create this nonprofit because I strongly believe that acts of kindness like this can go a long way, especially for those who feel hopeless or discouraged. If even one person feels better because of our care packages, we have truly accomplished something," stated Luhadia.
However, despite being the founders, many challenges arose as the pair learned more about the logistics of having a registered non-profit organization while still being full-time students. 
"
If even one person feels better because of our care packages, we have truly accomplished something."
— Co-Founder Ashna Luhadia ('24)
"We had to do a lot of research and paperwork and make sure we were setting up a reliable and registered organization. There were also other aspects like setting up social media, creating a website, and raising money," stated Luhadia. "It took a lot of time to figure out, and it's a lot of work, but I'm glad we didn't give up during the process."
While the co-founders were able to brainstorm their idea together, they collaborated with other Green Hope students to put the idea into action.
Vice President Kaylin Long ('24) discussed how she began working with Care to Care NC. "I thought it would be a good way to spread positivity and hope around the area for hospital patients," said Long.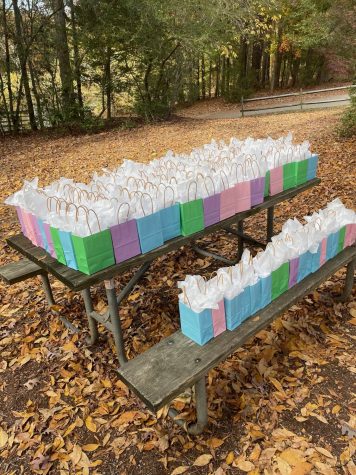 This past weekend, the executive board worked together to organize their first donation initiative for WakeMed, UNC REX, and Duke Hospital. 
"We started a GoFundMe, and it's the reason why we were able to purchase a lot of the needed supplies," stated Long.
Through the organization's GoFundMe, they raised enough money to create 140 care packages filled with socks, stuffed animals, stickers, and handwritten cards. The organization has worked closely with the three hospitals to remain in accordance with their health guidelines for the safety of their patients.
In the future, they plan to continue serving these three hospitals and potentially expand to other hospitals across North Carolina. They also hope to increase the number of care packages they produce as well as the number of items in each one.
For more information about the organization, visit https://caretocarenc3.godaddysites.com/.