Leaving Iowa: Green Hope's fall play
This year's play ¨Leaving Iowa,¨ an emotional yet humorous story about a family's road trip, went off without a hitch and was thoroughly enjoyed by many parents, teachers, and students. The play detailed the hardships of losing a family member, as well as coming back home and reminiscing on your past. The main character Don Browning loses his father and embarks on an adventure to spread his father's ashes. 
Lead Actor Henry Rowen, who starred as Don Browning, expressed his satisfaction with the production, especially with the majority of the play coming to life at the last minute.¨I was so nervous, but once I got out there it was so nice to stand in front of a big crowd and perform for them," he said. "The audience was amazing, especially Friday night and everyone was laughing which made me feel more relaxed. There were a few humourous slip-ups, but overall the play was great and the 5 weeks of rehearsal paid off.¨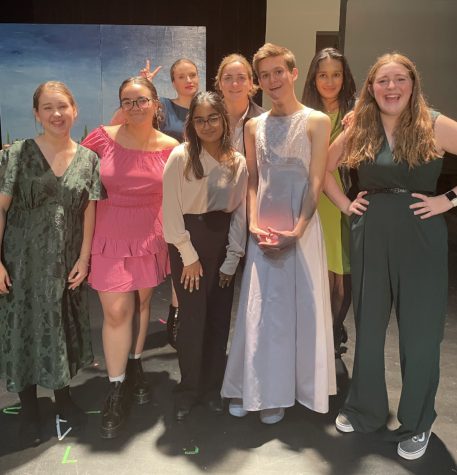 Rowen praised the timeliness and diligence of the crew, as the tech crew and actors only started rehearsing with one another the Saturday before the play.
Leaving Iowa was the first Green Hope production to involve projection—a way to create and display realistic backgrounds. Max Guerrero, a member of the projection team, noted that it worked flawlessly at all three showings. He also noted that audience engagement was at an all-time high, saying, "we had a great audience, and after all the hard work put into Leaving Iowa, it was gratifying to see so many people enjoy our show."
Director Mr. Peter Comperatore conveyed his gratitude to the crew who built an entirely realistic set and helped the show come together, as well as the stellar actors and actresses. "A special thank you to the play leads Henry Rowen, Eva Alperovich, Ben Halfon, Ipsitha Vasipalli, and Brody Lyons for all the hard work and hours they've dedicated to making the characters come to life," Mr. Comperatore said.
After three nights of successful showings, Mr. Comperatore said he was thrilled with how the play went and its reception by the audience.