Five stars for five fantastic Middle Eastern restaurants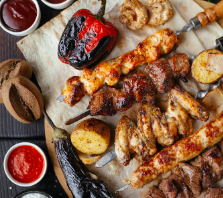 Middle Eastern cuisine does not have much popularity in the south. However, it is filled with mouth watering flavor that everyone should try. These five restaurants are some of the best for people who want to branch out with their cuisine and give Middle Eastern food a shot!
Kebab Skewer
This restaurant is perfect for takeout on a cold day. While it's not the best place to sit and dine in, the food will captivate you. Its wide selection of tender and juicy kebab skewers make it stand out from other middle eastern restaurants. With a generous amount of rice and up to three kebab skewers with salad, bread, and tzatziki sauce, satisfaction will be right at your door. Not to mention, their fantastic beef, chicken, and lamb shawarmas. My personal favorite is the spicy chicken shawarma served with a rich and flavorful garlic sauce. If you haven't tried this place, you need to check it out!
Habibi Grill & Bakery 
From excellent staff to rich and delicious food, Habibi Grill & Bakery is the perfect place to go with your friends and family. The menu is filled with a variety of options for everyone. Even if you are a picky eater, there will surely be something enjoyable on the menu. Their tender beef, lamb, and chicken platters are irresistible. The smell and sizzles roaming in the restaurant are beyond tempting. Their list of appetizers goes on with hummus, grape leaves, kibbeh, tzatziki salad, falafel and so much more! The portion sizes are larger, so be sure you go to have a big appetite when you visit.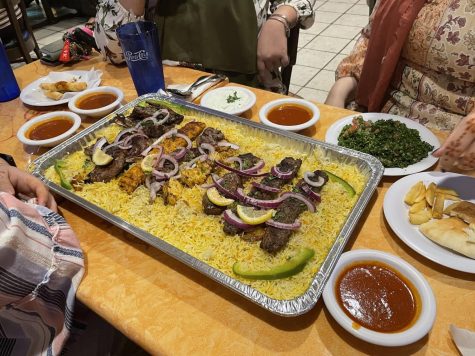 Mezeh Mediterranean Grill
Mezeh Mediterranean Grill is best described as a Middle Eastern Chipotle. Mezeh serves a wide selection of lifestyle bowls ranging from chicken kebab, falafel, Lebanese tabbouleh, veggie kofta, shawarma, and lamb. Additionally, the menu also has build your own bowls. You can make your way down the line of homemade sauces, rice, mixed greens, Turkish salad, Lebanese tabbouleh, cilantro hummus, pickled beets, tzatziki and harissa. With its incredible food and aesthetically pleasing interior, this restaurant is a great place to go with your friends. 
Albaraka Market and Grill 
Albaraka is the perfect grab and go restaurant for anyone in a rush. The number one menu item is the shawarma sandwich. Marinated and cooked in tasty spices, it's the perfect mix of crispiness and juiciness filling the sandwich. The garlic spread and pickles add to the mouth watering experience and create the perfect balance in flavor. Beef shawarma is made with the finest cuts of 100% beef and is filled with a wide range of Mediterranean spices. Casual foods like gyros, falafel, and salads are offered along with a variety of meat platters. 
Baba Ghannouj Mediterranean Bistro 
With over 12 salad options and over 25 wraps, this restaurant has much to offer. This bistro typically offers large portions with the family platter having four large skewers of your meat of choice, basmati rice, fattoush, hummus, baba ghannouj, falafel, cucumber sauce, and an assortment of pickles and pita bread. The warm, steamy, and crispy falafel with the fresh and cool cucumber sauce create a perfect balance of taste with your meal. This combination can also be made in a smaller portion and you can even customize your own platter! Their sides go on and on with dips, french fries, and many others. However, let's not forget the desert. The baklava drizzled with sweet and rich syrup is the best way to end this meal! 
Next time you go out and don't know where to eat, consider these restaurant options! You will definitely not regret it.