End of season sports roundup: Fall edition
Cross Country
Green Hope's Cross Country has had a highly successful season. Their efforts culminated on Tuesday, October 18, when the team competed in the SWAC Conference Championships. The Falcons dominated, winning 1st in Boy's Varsity, Boy's JV, and Girl's JV and taking 6th in Girl's Varsity. Multiple runners set personal records (PR) in the Championships as well. The top finishers for each division were:
– Luke Young ('23): Young set a PR of 15:33 in Boy's Varsity
– Alice Emel ('23): Emel set a PR of 20:19 in Girl's Varsity
– Matt Dubrule ('24): Dubrule set a PR of 17:35 in Boy's JV
– Anna Dudley ('24): Dudley set a PR of 22:14 in Girl's JV
Cross Country ended the season with a bang and set high expectations for next year.
Men's Soccer
Green Hope's Men's Soccer has always been a force to be reckoned with. This year is no different. So far, the team has won 15 out of their 18 games, taking 2nd place in SWAC rankings. Some of the team's top contributors include:
– Josh Bevan ('23): With an average of 1.6 goals per match, 0.6 assists per match, and 113 total shots, Bevan leads the team's offensive game.
– Bassil Bali ('23): Leading the defensive side as a goalkeeper, Bali has an impressive 2.9 saves per match and 50 total saves.
With the end of the season quickly nearing, the soccer team has its sights set on winning its senior night match against Green Level.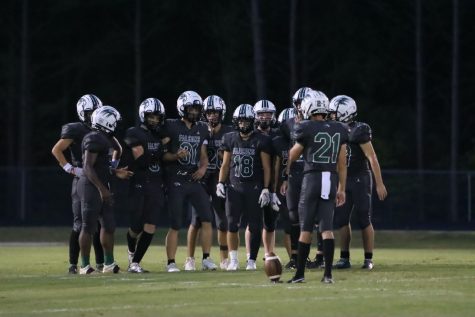 Football
It is no secret that Green Hope's football team has faced adversity this season. However, these challenges have been a perfect opportunity for the team to learn and grow for next year. Most notably, Coach Chris Tolbert has ensured that the players have worked hard and bonded together, despite it being his first season with the team. The team's efforts have paid off, resulting in a 42-25 point win against Green Level on Friday, October 21.
Some of the leading players are:
– Owen Zalc ('23): A 5-star kicker, Zalc is a senior with plenty of experience under his belt.
– Ian Hemilright ('25): Despite being a sophomore, Hemilright leads the team's offense as a center/guard. 
With many high-potential underclassmen coming up, the team is excited for the next season. 
Volleyball
With a 19-6 record, the Green Hope volleyball team has proven why it is one of the top teams once again. Currently tied for first in the SWAC rankings, the Falcons are no joke. After winning their first playoff match against Leesville, the team has a positive outlook for the rest of States. Two of the top performers for this season were:
– Belle Patrick ('24): Patrick had the most scoring hits and serves, with 299 kills and 52 aces this season.
– Taylor McNear ('23): McNear was one of the best defensive players, with 306 digs.
So far, the volleyball team has represented Green Hope well this year and plans to take this momentum into the next season.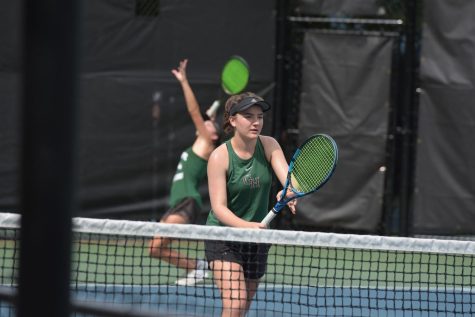 Women's Tennis
This year, Women's Tennis performed flawlessly. With a perfect record of 15-0, the tennis team did not drop a single game. The team is off to a strong start in the conference championships, winning 6-0 against Heritage. Some of the top players in the team were:
– Olivia Corcoran ('24): She had the most wins in 1 Singles and 2 Singles. 
– Vibha Kestur ('24) & Lisa Kranec ('24): They had the most wins in 1 Doubles..
Based on its record, the tennis team is in a good position for championships. Follow the girls as they fight for the title of conference champs!
Women's Golf
With three 1st place finishes, six 2nd place finishes, and two 3rd place finishes, Green Hope's Women's Tennis team stands at the top of SWAC. The team finished the season with a memorable performance by taking 1st in the SWAC Conference Championships. Some of the top players were:
– Justine Pennycooke ('23): Pennycooke has a best score of 30 and an average score of 35.4.
– Tyler Spriggs ('23): Spriggs has a best score of 34 and an average score of 35.3.
The golf team represented Green Hope well this season and plans to do the same next year.