McNear or Far: Taylor always gets the ball
Starting off her freshman year strong on Junior Varsity A, Taylor McNear ('23) played for the first time as Outside Hitter for the team. Since her sophomore year, she has played as Libero on the varsity team. McNear has always had strong goals to pursue volleyball in college, and maybe even further, since she was a young girl. She has already accomplished many of her goals, and is excited to see what more she can do. The GH Falcon sat down with her to learn more and discuss her hopeful career in volleyball. 
Why did you want to play volleyball?
"I grew up with volleyball around me my whole life. I grew up watching it all the time, so it has been a part of my life since I was born. It was kind of a given that I got to play." 
Who inspired you to play?
"Mainly it was because of my mom. She just signed me up for it and said you're playing."  
What is your daily routine like as a volleyball player?
" I wake up at like 5:30am and finish up work and make sure I have all of my stuff ready. I make breakfast and try to eat as much as I can. I try to leave around 6:40am and go throughout my day. We have practice right after school. We get fifteen minutes to be ready, so by 2:30pm we should be starting. After practice, I usually go to Tropical Smoothie or make a smoothie at home. If we have a game, I'll try to do homework before the game, and I'll go home and do a little bit of more work." 
What is your favorite memory of being on the team?
"This year, I really liked doing the pre-season workouts that we had before practice started. It was really fun since we connected with each other off the court, but still in the same space together." 
What's your pre-game routine?
"I normally take a nap before, if I can. When I wake up is when I start stretching and getting ready. I'll listen to music so that I get my headspace right to be ready to play."
What do you like to do other than play volleyball?
"I definitely like watching volleyball, as well as watching my siblings because I have a lot of them. I really like watching my baby siblings the most. It's a little different, but I like watching cleaning videos."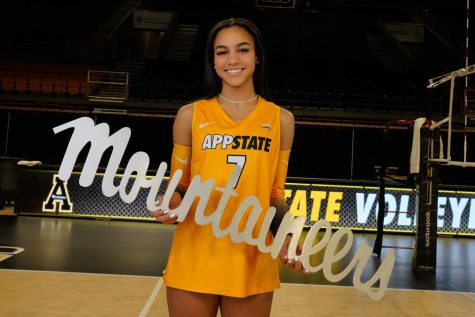 What are your goals after high school?
"I am still trying to figure out what I want to do in college, but I definitely want to be successful in my volleyball career. That is my biggest goal." 
Why did you decide to commit to Appalachian State University?
"I had that gut feeling when I first got there. I was like this is where I want to go and this is what I want to do. I didn't have to talk to any other coaches or colleges cause I just knew that this is where I wanted to go."
What was the recruitment process like?
"It was definitely stressful. For me, it was a lot of emailing, staying on top of emails especially because I had a late start to the recruitment process. I wasn't really shown the right way to do it until just last year, so in my U17 year, I was just starting when I should've started at a younger age."
What has been the most valuable advice someone has given you?
"Nobody is going to do it for you. You have to work for everything. That is a big thing I've always learned. I think of it as nothing is going to be handed to me and I have to work for it."
What is the biggest lesson you learned being a student athlete at Green Hope?
"If you can call yourself a student athlete, it's great because you are showing that you have your time-management down, you are athletic, and you can do school as well."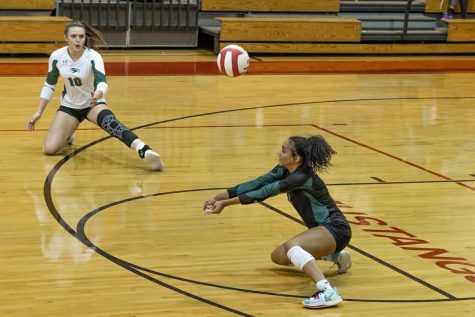 What is one message that you want to leave your school community and teammates with?
"I would say reward comes with hard work. Even in school, if you put in the hard work to study, you will do well no matter what. If you are taking the time out of your day, even after practices, to workout extra, you will get better. The things you work for will reward you." 
Having McNear as a part of Green Hope's Volleyball program was, and still is, an honor. We are excited to see the great potential she has as she moves through her journey in this sport.