Marching band places fifth at Bands of America competition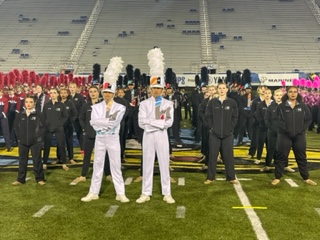 Yet again, the Green Hope Marching Band proved itself successful through hard word and determination. On October 8th, Green Hope's band members traveled to Delaware to participate in the Bands of America (BOA) Mid-Atlantic Regional Championship Competition.  As the band's philosophy of having a growth mindset continues, their team dynamic is paying off.
The group competed against 29 other schools at the University of Delaware, and the results spoke to the dedication put in over the many months of rehearsals and local competitions.
The team was selected as one of the 12 finalist bands based on their preliminary performance, and then finished in fifth place in finals.
After preparing and fine-tuning their performance since the beginning of the summer, the band had confidence in their abilities. When Green Hope students drive out of the parking lot at the end of the day, they always see the band practicing. When asked how the band prepared for the big day, director Mr. Creighton Flowers said, "Lots of rehearsing. We started learning our show over the summer and have worked hard to clean it and make it the best we can."
Allen Yao ('23), senior head drum major and clarinet player, discussed his feelings before the competition, saying, "​​I wasn't particularly nervous going into the competition, as we'd spent too much time rehearsing and refining the show to not feel confident in our execution. There was much more excitement than nervousness."
Yao is excited about the band's success, and feels that this result will facilitate further growth and success for the Green Hope Marching band.
"
I'm confident that our success this year will facilitate the continued growth of the entire band program, and I know that future Green Hope Bands will only reinforce and increase our national recognition."
— Allen Yao ('23)
The Marching Band will attend their next competition knowing that they can more than hold their own with the best bands in the region.