Diamonds in the digital rough: Underrated video games
Disclaimer: Two of the recommended games are rated M for Mature and contain depictions of violence. 
If you're a student, you've likely heard discussions around the usual few video games: Fortnite, Rocket League, and Minecraft. However, there are more niche games out there with moving stories and great characters that often aren't acknowledged by the student populace. While it's perfectly fine to like popular games, high schoolers should try out the following video games as they often miss the public's attention!
Yakuza: Like a Dragon
Developed by Ryu Ga Gotoku Studios, "Yakuza: Like a Dragon" follows ex-yakuza grunt Ichiban Kasuga. Post spending eighteen years in prison, he finds nobody awaiting his return and that his "family" has changed for the worse. Despite everything, Ichiban never loses hope and works his way back up to the top. Inspired by his heroic fantasies, Kasuga brings together a team of fellow low-life's to make names for themselves and uncover the truth of what really happened during his sentence.
While previous entries in the Yakuza franchise revolved around combat, "Yakuza: Like a Dragon" began the series' migration to a turn-based RPG combat system.  The gameplay places a strong emphasis on friendship, teamwork and self-improvement. Throughout the game, Ichiban has the opportunity to bond with his allies and improve upon his personality. These improvements and strengthened bonds, consequently, unlock new abilities within the game.
Students can learn a lot from playing "Yakuza: Like a Dragon", given its themes of friendship and perseverance. Academia in general is incredibly stressful at times, but Ichiban's passion encourages students to never give up. Additionally, his desire to socialize and strengthen his bonds can motivate students to build connections of their own. Though Ichiban Kasuga isn't a perfect individual, his admirable traits combined with "Yakuza: Like a Dragon's positive themes will provide light to students going through a hard time.
Yakuza: Like a Dragon is rated M for Mature by ESRB.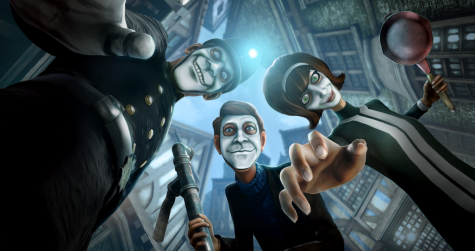 We Happy Few
Developed by Compulsion Games, "We Happy Few" is a survival horror game that takes place in an alternative-history futuristic England. Due to a war that occurred prior to the events of the game, the fictional city of Wellington Wells forces its citizens to repress their trauma by taking a drug named "Joy."
The game follows journalist Arthur Hastings and two others who become gradually exposed to the harsh reality of the town and its history, and must find their way out of there alive.
The story and gameplay of "We Happy Few" preaches against the dangers of blind conformity and blissful ignorance towards the past. While the protagonists are on Joy, the world around them appears to be bright and wonderful, but when faced with withdrawal, the dire circumstances in Wellington Wells are ever more apparent. Unfortunately, citizens of the dystopian town do not take a liking towards those who refuse to take their medication, becoming discriminatory and even hostile towards them. Nevertheless, Arthur and the others press on their journeys to escape, occasionally bumping into each other along the way.
"We Happy Few" excels in its story and character development. The crucial theme of the game is accepting the harshness of reality, and forgiving oneself for their former vices. In a similar fashion to the game's cast, students with troubled pasts will realize that they can still cleanse their conscience, start anew, and forge their way into the future. However, they must never forget where they came from, so they don't end up making the same mistakes from before. In addition, "We Happy Few's plot and character development encourages people to not worry about conformity, to be their own selves, and to forge their own paths in life. On a less personal scale, students can better understand through the game that even in their own society, there is injustice and corruption beneath the surface that many people choose to ignore.
We Happy Few is rated M for Mature by ESRB.
Trails of Cold Steel
Another JRPG in the long-running "Trails" series developed by Nihon Falcom, "Trails of Cold Steel" puts the player in the shoes of Rean Schwarzer, a student at the fictional Thors Military Academy. A member of the school's newly-formed Class VII, he and his classmates are tasked with various field studies around the nation of Erebonia to further understand its political conflicts. Throughout their studies, they'll cross paths with the government, extremists, and everything in between.
In a similar way to "Yakuza: Like a Dragon", "Trails of Cold Steel" places an emphasis on strengthening bonds with peers. Throughout various bonding events in the game, Rean can become closer to his classmates (and maybe even find his special someone along the way). These strengthened "Links" between Rean and his classmates allow for better tag-team abilities during combat.
In its own unique way, "Trails of Cold Steel" inspires students to become leaders who make differences in their communities. Granted, said differences may not include using powerful battle tactics, taking on insurgents, or utilizing crystal-powered magic, but students can follow in Rean and his classmates' footsteps by working together to make a positive impact in society's social and political affairs.
Trails of Cold Steel is rated T for Teen by ESRB.
While they may not be the first to come to mind when the subject of video games is brought up, these games entertain players with their thrilling plots and enticing gameplay. Whether you hit the streets of Yokohama, become mesmerized in the town of Wellington Wells, or venture across the vast Erebonian Empire, they will all be stories that students will treasure for years to come!