Green Hope Shines at Artsplosure Festival
The Artsplosure Festival returned this past weekend in the center of Downtown Raleigh. The festival, which began back in 1980, was put on hold last year due to COVID-19. Finally back and in full effect, the event attracted a large crowd both on Saturday and Sunday. Over 175 professional artists came to display and sell their unique art, including Green Hope's very own students.
Ms. Melissa Poppe, the art teacher at Green Hope High School, discussed the history behind the event. "The festival began back in 1980 as a way to bring every aspect of the fine arts together, from musical performances to showcasing local artists from across the country," she stated. Ms. Poppe is approaching the end of her twentieth year teaching at Green Hope.  As Ms. Poppe expressed, the festival is a great opportunity for aspiring artists. "It is really great exposure for the selected students and their artwork as well. We are all very excited about it," Ms. Poppe stated. 
Artwork by Green Hope students' has been exhibited in Artsplosure since the very beginning of the festival. "What I love about Artsplosure is that the committee that began it was a group of high school and middle school art teachers. They thought that instead of just showcasing professional artists (like most art exhibitions), local middle and high school artwork should be as well," Ms. Poppe stated. 
This year, eight Green Hope students' artwork was exhibited. The selected group included Xiaotong (Alice) Luo, Sydney Mitchall, Sophie Raad, Jane Shin, Ekaterina Soboleva, Alyssa Wang, and Norah Wasko. The artwork varied widely from student to student, with each student bringing a different, unique perspective to the showcase. "All of the artwork is very different," Ms. Poppe stated. "We have sculpture, mixed-media, digital, drawing, and photography." Additionally, all of the artwork exhibited at Artsplosure was made in the classroom.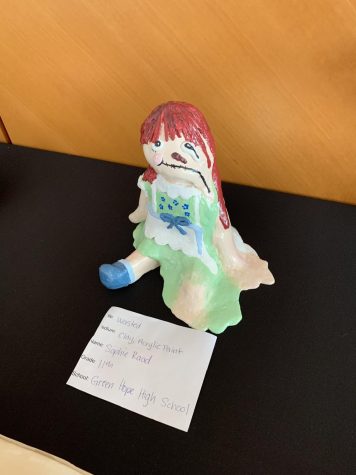 Sophie Raad, a junior at Green Hope, discussed her art piece that was selected for the exhibition. "My sculpture was inspired by Salvador Dali's "The Persistence of Memory" painting," Raad shared. "I made this piece in Art III. It might appear to be a girl to some people, but it is actually a melting doll. I would say it is 90% wood filler and 10% clay," said Raad. "I dried it with a hairdryer so I could finish it before school and it crumbled so then I had to last-minute fix it with wood filler." Despite Raad's chaotic finish to this project, she truly created a memorable piece of art. Like her peers', Raad's hard work paid off and she was able to have her work shared with all those who ventured to Artsplosure.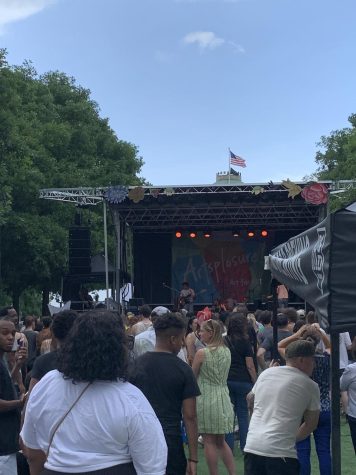 The Artsplosure Festival also offered other exhibitions and opportunities for attendees. The art market consisted of row upon row of artists selling their own, unique crafts. Jewelry, pottery, homemade perfume and candles, painting, photography, and woodwork were sold. Furthermore, the festival offered live music, including an alternative band called Indigo DeSouza who ended the event on Sunday evening. The festival also had numerous interesting art installations, including life-size, chromatic bubbles. The event offered food from local, North Carolina food trucks for those looking for a quick bite to eat. 
The 2022 Artsplosure Festival was truly a unique, one-of-a-kind experience. For those whose art was exhibited in the festival, including the middle and high school students, this event provided a great opportunity for exposure and recognition. For those who attended, this event was a fun way to see, hear, and even buy unique art. While this year's festival is over, Artsplosure will return to Raleigh in the spring of 2023.
"
They [a committee of teachers] thought that instead of just showcasing professional artists (like most art exhibitions), local middle and high school artwork should be as well."
— Ms. Melissa Poppe