Davis Cuffe Commits to Catawba College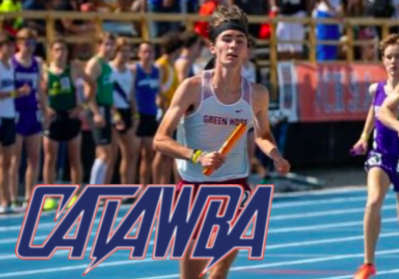 Green Hope's very own Davis Cuffe committed to Catawba College last month to continue his athletic and academic career. His four year career has been full of adversity, changes and major improvement. Davis started his career running cross country for the first time and competing at the JV level. But after breaking his ankle early in the track season and Covid-19 ending his season in 2020 Davis only started running track in his junior year. For two years now Davis has been a major contributor to the track team, competing in the 800m and 400m, while also excelling at cross country. In his junior year he was able to run at states after helping his team win regionals in the 4×800 and ended up doing the same thing again this year winning back to back Regional Championships in the 4×800. Davis has been a big part of Green Hope's track and cross country program for years now, but now after his hard work he is able to experience running track at Catawba.
We were able to interview Davis on his career at Green Hope and what it was like to go through the recruitment process.
What are your goals at the next level?
Win a lot of races and have a lot of fun.
What's your favorite memory competing as a Falcon?
Outdoor regionals four by eight my senior year. Our top guy was down and I brought us back from middle of the pack and ran a two second PR to set our last two legs up to get our second regional championship in two years.
What made you decide on Catawba?
It was a really good fit for me. I had talked to some other schools and even thought about trying out to walk on at bigger D1 schools, but I felt like Catawba really wanted me and would be the best place for me to succeed.
What were some of the changes you made in your mindset to make it to the next level?
I honestly hated running my first two years at Green Hope. I didn't take it too seriously because I wasn't very good and running is hard when you're not good. I had a rough time with running during the 2021 cross country season and really thought about quitting running altogether but decided to join track just because my friends did. I broke my ankle my freshman year of track and COVID shut down my sophomore year so my junior year was really my first year running track. Anyways I won a lot of races that year in track and winning is a lot of fun. That kind of sparked my passion for running and I just wanted to win more and more.
What were some of the things you did to start getting noticed by colleges?
I really had to put myself out there, and let them know who I was as a runner. I've only been doing track for about a year so my times aren't going to jump off the page although they are pretty good. I had to advertise both my room for improvement and times when talking to coaches. My advice to any high school runners looking to get noticed is to let coaches know who you are as an athlete and a human during the recruiting process and not just sending Milesplit links.
Congratulations to Davis! We all wish the best for you at Catawba and can't wait to see you keep improving at the next level!