Toria Roundtree Commits to Western Carolina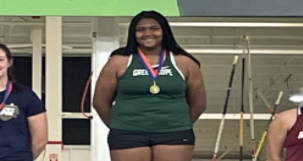 Senior Toria Roundtree recently committed to Western Carolina University to continue her academic and athletic career. The school record holder in the discus and a state champion in the shot put, to say Toria has been successful at Green Hope would be an understatement. A four year varsity member of Green Hope's track and field team Toria rarely lost, and will likely have similar success at the next level.
We were able to catch up with Toria regarding her career at Green Hope and her future at Western Carolina.
What are your goals at the next level?
At the next level, I want to be able to qualify for nationals and be able to PR more often.
What's your favorite memory competing as a Falcon?
My favorite moment so far while competing as a Falcon must be our senior night. It was a heartwarming and heartfelt night. I think that it showed how much all the upperclassmen and underclassmen cared for each other. Also winning states for shot put indoor was very exciting. These are definitely the top two of my favorite memories.
What was your recruitment process like?
At the start of my senior year, I had a good number of coaches reach out to me. I was in contact with all the coaches for quite some time just trying to weigh out all my options. While deciding what school would be the best fit for me. It was fun because I got to experience life on campus at various schools.
What made you decide on Western Carolina?
When I went to WCU I loved everything about it. The track itself was so beautiful. I loved the way that the coaches and all the teammates were able to interact with each other. It was so easy to be able to talk to the track team and the coaches. It felt like a great place for me to be able to continue my academic and athletic career.
Do you have any advice for young athletes hoping to play in college?
My advice for any younger athletes would be to take care of themselves. I think that it is one of the best things that you can do to be able to perform well in your sport. I would also say that it is important to work hard every day at practice, your hard work is going to pay off. Also communicate with all of your coaches and let them know what's going on.
Congratulations on your commitment Toria! We will miss you throwing for Green Hope.