Green Hope Baseball: Excited for the Future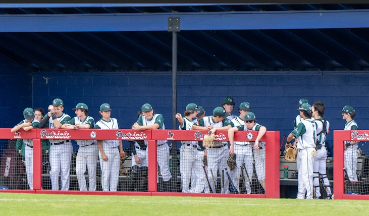 The Green Hope Varsity Men's Baseball Team has had a rollercoaster of a season this year. As the youngest team in the Southwest Wake 4A Conference, the players have fought hard to maintain a nearly .500 record.
The team's two captains, Lance Phillips and Gabe Barbee, led the sophomore-dominated group. Both Phillips and Barbee are currently finishing their junior year, so they will be returning in 2023 for a final season. Phillips, a pitcher and first baseman, led the team with the highest batting average of 0.377. He also had the highest fielding percentage of 0.955 and the highest on base percentage of 0.522.
The team's recent game against Cary High School proved to be a highlight of the season. Cary High is ranked fourth in the conference, compared to Green Hope's seventh-place ranking. Despite this, Green Hope beat Cary in a 11-2 win. Sophomore John Bartle, a second-baseman for the team stated, "Beating Cary was the most exciting part of the season for me."
The team also had an encouraging win against Enloe towards the end of the season. With a total score of 15-1, the team truly showcased their capability for success with this game. "My favorite memory from this season was going 4-4 with a double against Enloe," Junior Cody Kennison reflected. Kennison is a pitcher, center-fielder, and right fielder for the team, and has been playing baseball for over twelve years.
Both on and off the field, the team has enjoyed connecting and spending time together. "The most fun part about being on the team is the bus rides and the environment on game days," Sophomore Ryan Poray stated. "We are very competitive, but we also have fun and joke around."
A common sentiment shared among the team is that this season went "better than expected." With such an atypical, young team, the players' understood from the start that the season would be far from easy. The 2021 team consisted of thirteen seniors, a huge drop to this year's single senior: Dominick Rererich. They worked hard to adjust to the team's new dynamic, and found success despite the unfavorable odds.
The team is more than excited for Spring 2023. With such a large number of returning players, the team is set to come back stronger and have a winning season.