Women's Lacrosse's Fantastic Finish
After fighting through a tough season, the Green Hope High School Women's Lacrosse team concludes their season with a 9-5 record. The Green Hope team finished off with a third place ranking in the Southwest Wake Conference.
There were many highs and lows throughout the season, but here we provide a recap and reflection of some of the season's most notable events.
One of the team's most proud moments consists of their win over Panther Creek in their Fight for 55. On Monday, April 25th, the Falcons overpowered the Catamounts in what was described as a very high intensity game: "My favorite moment from this season would have to be when we beat Panther Creek. It was a very emotional game and there was lots of pressure for both teams to win, and after our loss to them in the beginning of the season we really wanted to win. And we did," states Lilah Dailey, a sophomore on the varsity team. The initial loss and eventual win over Panther Creek were two of the most significant games that took place throughout the season.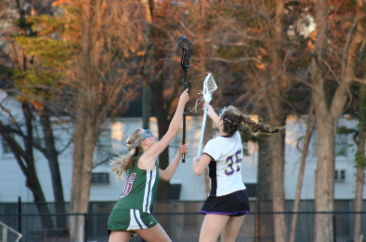 The solo senior and varsity team captain, Maddie Shockley, led her team to a successful season finale, concluding the season with an 18-11 win over Apex Highschool. Shockley deserves a special shoutout for her contributions to the team, as Dailey states, "I'm going to miss our only senior, Maddie, she contributed a lot to the team and it was always a lot of fun playing with her. She was a great captain this season and helped us become a better team."
The whole team made many improvements throughout the season, and learned to trust and communicate with each other better as the season progressed. With a majority of the 2022 varsity team being made up of underclassmen, the team holds a promising future for the upcoming couple of years, as JV lacrosse coach, Coach Moakley states, "It's been a fun season, we've got a young squad and they've gained a lot of experience, we're looking forward to seeing what this squad achieves in the next couple of years"