Not Just Parking Security: A Profile of Officer C.E. Smith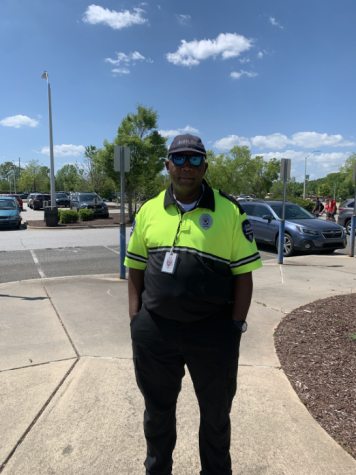 Students often overlook the Green Hope security officers; however, they are the foundation of keeping the school safe. To give light to these important people, the GH falcon interviewed one of the school's security officers, Officer C.E. Smith. 
Smith has been an officer at Green Hope for two years and is seen around the campus all day. When asked what his daily
responsibilities are, he responded with a great variety of tasks. He stated, "First thing, I get here in the morning to make sure all the proper gates are closed, raise the flags, the carpool area is set up for pick up and drop off." School opens at 7:00 am, so he must do these said things well before then. After second period, he stated, "I make sure no kids are leaving the campus unauthorized and skipping school…I…make sure everybody's where they're supposed to be. Then, at lunch, I come out here and make sure everybody's got the right credentials to leave campus for lunch…" 
Sometimes students who forget or do not have an off-campus pass will attempt to leave campus during lunch. Smith stated, "Some of them will try to [keep driving]. I had one yesterday hold up a little yellow piece of paper…trying to make it look like a pass…Sometimes we'll have students that don't have third and fourth-period classes, so they'll look at me and say 'do you remember me?' Sometimes I do, sometimes I don't…So then I'll have to see their class schedule. But for the most part, everybody obeys the rules." 
One thing regarding the safety of students that i particularly alarming to Smith is the way in which students are not defensive in their approaches to attending school via the main entrance.  Smith stated, "One thing that kids do a lot of here is walking out right in front of cars without even looking. A car will be coming and they'll step right off the curb. [The students] do have the right of way in certain situations, but, still, you never assume that the driver of the car sees you. Before you step off the curb, just kind of make eye contact with the driver to make sure that he sees you so there's no mishap." Keeping this knowledge in mind, helps Officer Smith understand and prepare for difficult situations that he feels could be avoided with just a bit of mindfulness by every pedestrian especially in a parking lot where there are a lot of inexperienced drivers.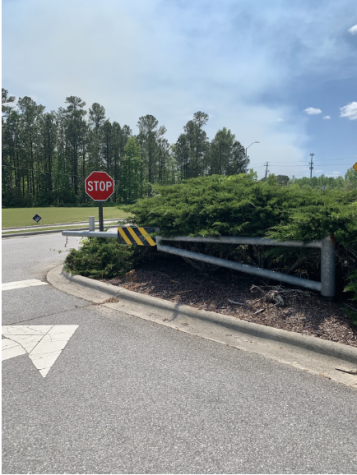 In addition to the responsibilities the security officers have in the mornings, Smith also stated, "In the afternoons I kind of look around…make sure, you know, no kids are skipping school…and then at the end of the day I'm in a position here to make sure everybody leaves campus. We lower the flags, close or open the proper gates, and the last thing I do before I leave is just check the outside to make sure all the outside exits are locked."  These tasks create a safe environment for Green Hope students and staff, but the actions taken lead to a confidence that the school is monitored at all times by professionals with significant training.
Even though students will occasionally give the security officers a difficult time, Smith thinks Green Hope is a great school to be an officer. He states, "Most kids [obey the rules]…I mean I'll write a few parking tickets, like forgetting to hang their parking tags, or occasionally parking in the wrong parking space. But for the most part, once we get this far into the semester, they pretty much know what to do and what they're not supposed to do." 
From opening and closing school entrance and exit gates, to monitoring parking passes and student mindfulness of traffic patterns, Officer Smith creates a Green Hope environment of which students and staff can be proud and feel secure.