Outdoor Track Sprints Into Another Successful Season
Your nationally qualifying indoor track team returned to the track earlier this spring as outdoor track began. As a team, your Falcons aren't very strong with only one win on the season, but they have many talented individuals that look to make an impact as the season continues.
One of those talented individuals is star sophomore Sebastian Percival-Shin who stands second in the conference in the pole vault and was a part of Green Hope's state and national championship qualifying teams. Being only a sophomore Sebastian wasn't expected to be in such a key position on the team. Injury to senior runner Davis Cuffe pushed Sebastian into the spotlight the week before the indoor track state championship. Sebastian excelled in this role running a fantastic split during states that helped them to a third-place finish in the four by 800m relay. Sebastian stepped up yet again during nationals in New York when he ran a 1:58 split in the 800m leg of the distance medley relay. That time was a near five-second personal best in one of the biggest races of the season. When asked about his mindset that allows him to set aside pressure and perform in the big moments he explained that, "injuries happen all the time so you just have to be ready", "I knew that if an injury happened I'd be ready, I train with these guys every day". While he's already had plenty of success Sebastian is nowhere close to being done as he states that he's looking forward to winning a state championship in the four by 800m relay as he said, "That's what we're aiming for, a state championship".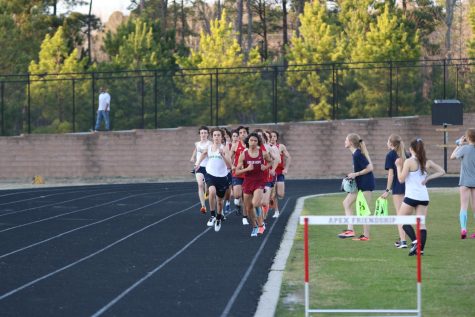 Although spring has just started, May is fast approaching, and with it comes the postseason. Something Green Hope track and field head coach thinks will benefit them is their experience at nationals, as Coach Ross stated, "I'd like to think they returned with a better understanding of what it takes to be good at a national level." Another thing Ross expects to benefit this group is last year's track season. In 2021 track was far from normal with a shortened season, some practices in masks, and very few seniors on the roster, 2021 offered experience to younger runners if nothing else. Coach Ross expects that that experience created "pretty serious goals" heading into 2022. With all but one of their 2021 state qualifiers returning in 2022 Coach Ross is "excited" for their upcoming postseason. One athlete she is especially excited for is senior thrower Toria Roundtree who Ross says, "is going to graduate with three school records and a strong performance at the state level, which is inspiring the next generation of girl throwers at Green Hope."
Before that next generation arrives, this current group has plenty of success in the near future. Be sure to show some support to your Falcon runners before they compete in the Apex Lion Relays this Saturday.