Special Education Hopes to Build a More Inclusive Environment
Students with special needs look to connect with the general education student body
With over 2,800 students and 100+ staff members, Green Hope High School provides a multitude of programs for all students.  Included in those numbers are students learning through the Special Education Department.  For those students with different abilities, the departmental staff focus, not only on the academic essentials, but life skills that students will carry with them long after they have left the safe space of high school.  The department hopes that more of Green Hope's student body will engage with the students with special needs.
In room 224, Ms. Laura Bunn, a Special Education teacher, along with Mr. Vinh Ngo, an Instructional Assistant, equip their students with the necessary skills to succeed in the real world on a daily basis. However, because of the separate classroom environment, the Green Hope Special Education teachers call on other Green Hope students to stop by and engage with students who have Special Needs.
In an interview with the Green Hope Falcon, Ms. Bunn stated that if she could tell the Green Hope student body one thing, it would be that, "Our kids are teenagers just like them, and they want to have the same relationships with peers their age."
Much like like General Education students, students with Special Needs at Green Hope engage in similar classes, with a primary focus on Math, English/Language Arts, and vocational rotations. Vocational learning incorporates day-to-day skills that enable students to learn important trade skills for future workplaces. Ms. Bunn mentioned that, "Teaching vocational skills can also be a challenge at times because Special Needs teachers are not only expected to teach academics, but we also have the responsibility of getting our kids ready for the real world."
"
We need more general education students to join the program (PEPI). Our students really do need social interaction, not just amongst themselves, but also amongst the entire student population."
— Mr. Vinh Ngo, Instructional Assistant
Special Education students also participate in PEPI, which stands for Physical Education Pupil Instructor.  PEPI is a student-led class which allows teens with special needs to integrate with general education students in the building in order to build meaningful relationships between peers.  Although the program is meant to serve as many students as possible, the Special Education Department wants to see more engagement from the general education students.  As mentioned by Mr. Ngo, "We need more general education students to join the program. Our students really do need social interaction, not just amongst themselves, but also amongst the entire student population." 
Mr. Ngo also noted that, "PEPI is not only a time where my students can interact with general education students, but it also allows general education students to learn about so many different disabilities, from Down Syndrome to Autism to intellectually disabled students."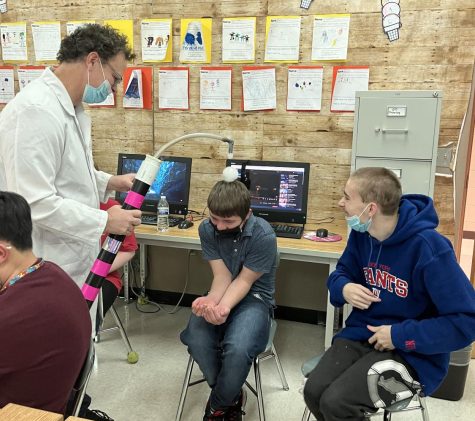 Creating an inclusive student body that interacts with students with special needs is only one item of interest for Ms. Bunn and Mr. Ngo.  An engaging part of teaching Special Education, according to both Ms. Bunn and Mr. Ngo, is the ability to "develop a closer bond with each student." Mr. Ngo added that as a Green Hope Alum and former Special Education student as well, he is able to personally connect with each and every one of his students since he understands what it is like to be a Falcon. 
From understanding the pressure to have the perfect GPA to knowing how necessary it feels to keep up with one's peers, Mr. Ngo feels as though he is even more capable of providing his students with the comfort and tools needed to succeed. 
Green Hope Assistant Principal Ms. Nina Scott-Emuakpor, the administrator responsible for Special Education programs, also plays a role in the management of the ECS classroom. Through individual meetings with parents, check-ins with the students, revising student schedules, and coordinating with the corresponding teachers, Ms. Scott is constantly involved in ensuring that all students at Green Hope have a chance at taking control of their education.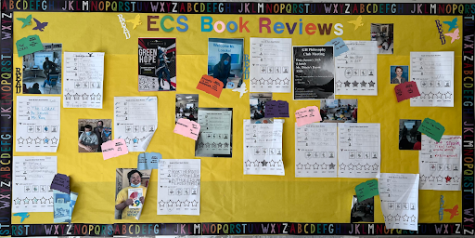 "What we are working on now is ensuring that all of our students have various opportunities beyond just a four-year college post-Green Hope. There are so many other options like attending a community college or studying a trade, and it is important that our students understand all of the options available to them," stated Ms. Scott.
However, while the handful of administrators and teachers dedicated to Special Education make up a significant part of the program here at Green Hope, the Special Education students themselves use all of their tools all of the time.
Nancy Byun, a sophomore, and Jordan Coleman, a junior, in Mr. Ngo and Ms. Bunn's Special Education class participated in an assisted interview with the Green Hope Falcon to provide insight on what it's like to be a student with special needs.  Jordan noted that his favorite part of coming to school every day is, "seeing my teacher Mr. Ngo." He also repeatedly included that Mr. Ngo was more than just his teacher in the classroom, but rather, a friend to him and his classmates too. "Mr. Ngo is funny and silly," added Nancy.
Like other Green Hope students, Nancy and Jordan are both involved in Green Hope clubs such as Project UNIFY, which bridges the North Carolina High School Athletic Association with the Special Olympics of North Carolina, and Practice With a Purpose. Due to COVID-19, the Special Education program wasn't able to participate in the state's Special Olympics last year, but they are in the process of preparing for the 2022 Special Olympics USA Games in Florida this upcoming June.
In order to prepare, interested Green Hope students with Special Needs meet every Monday and Wednesday to practice the sports played at the event. "It's the first time Unified Track has been included in the game, so we have four General Education students and four Special Education students working hard to go to the national event in just a few months," stated Ms. Bunn. 
Falcons with special needs are high flyers that require companionship with other students, compassionate teachers, and a supportive school. Despite the separate classrooms, these students play an important of a role in establishing the sense of community here at Green Hope.  The students' needs go beyond their different abilities, and inclusion among the entire student body is required for acceptance and companionship.