As the men's 200 yard freestyle final in the 4A NCHSAA State Championship is coming to a close, there is a speedy photo finish between first and second place. The second-place finisher, Landon Lloyd ('24), will be continuing his swimming career at Auburn University.
When did you begin swimming competitively?
I started swimming competitively when I was seven years old, but at that point it was mostly for fun. I would go two or three times a week.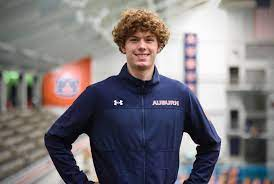 How do you feel COVID impacted your development?
COVID gave me a new perspective as a swimmer, it reminded me of the importance of the relationship with your teammates. At the beginning of the pandemic, we still swam at Jordan Lake and kept training, but it was a lot harder to develop without the structure that coaches provide.
What did a normal day look like over the summer?
I would normally wake up around 6:15 and go to practice from 7-9:15, and then 3 days a week we would lift for another hour. Tuesdays and Thursdays I would have a double and go back to the pool at 3:30 and do another hour and a half of training.
What would a weekend look like if you had a meet?
Most meets were Friday-Sunday, and we would have a morning prelims session and a night finals session. Some of the bigger meets like Futures would be Thursday to Sunday with prelims and finals as well. For the morning prelims sessions I would wake up around 7 and finals would normally end around 8:30.
How did your recruiting process go?
At the beginning, there were a decent amount of schools interested in me, and I felt like I managed to get it down to a solid list effectively. On my final list of three schools, I visited UNC-Chapel Hill, Virginia Tech and Auburn University.
What made you choose Auburn?
I loved the atmosphere, especially with it being a big SEC (Southeastern Conference) school, it had great energy, at the football games in particular. I think I would find myself being very happy there, having the invigoration for my teammates. Also, some of the other recruits I met on my visit I really enjoyed which was a big driving factor in my decision.
What are you looking forward to for the high school season?
I'm looking forward to having fun and being a team captain. I think we can have a solid performance at states and regionals and have a good time.