The Green Hope Volleyball team is starting off fierce, currently with a 7-1 record. The team has already pushed through goals— within their first couple of games they defeated Middle Creek, the number one team in the state. The coach, Mr. Karl Redelfs, says "It was a pretty big accomplishment and gave other teams a pause if they thought we would be weaker this year."
This success has led to the determination for future games coming up, leaving the one loss in their record against Cardinal Gibbons as a way to improve. The team has a future objective of being in the State Championship match and are striving for the win.
During previous seasons,  the Green Hope Volleyball team has played strong, making them four time 4A NCHSAA State Champions. The group has made playoffs and conference matches most years leading to part of their success. One of the captains of the Varsity Volleyball team, Belle Patrick ('24), provides further input on why the team is interconnected "We have been growing a lot, and our team bonding off and on the court has been really good," she also adds "We have connected better than past years." The group bond and personal growth as a team plays a tremendous role in their achievement, and keeps growing throughout the years at Green Hope.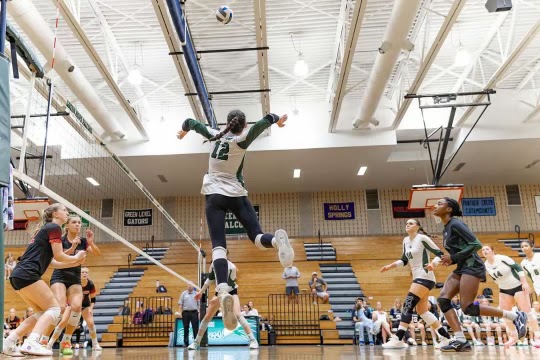 The team consists of players that not only have goals for this season but for themselves in the future. Coach Redelfs reflects on this aspect "We have a great group of seniors who are doing big things and in major roles. We also have some sophomores that are really stepping up when it comes to scoring, so that is especially nice to see for now, and the program's future." The team's successes bring personal goals being achieved, many seniors furthering their career on a collegiate level as Patrick points out "We have two college commits on our team which is pretty really cool." 
As the team "steps back and just focuses on one game [at a time]" there is always a good crowd in the stands. The Falcon Frenzy is always there, decked out in the theme of each game and yelling chants to support and cheer on the team. The Volleyball team surrounded by a supportive environment helps them strive and get pumped up to play. Patrick reveals that as a captain she will "Enforce the themes and the huddles for the team so it's fun" which drives the players as well. Working hard and having fun is shown throughout to be a good method for the team and supporters in the stands.
The team has strong connected players and a mind set of determination. With a dominant record and consistent sets, their next game is on Sep 12, 2023 against Green Level High School for a top 10 match-up.