Snapchat's artificial intelligence chatbot sparks controversy
Artificial Intelligence (AI) has become popular during the past few months. It can now be found in many apps, from popular AI chatbots ChatGPT and Google Bard to generative AI image creator DALL-E and now, popular instant messaging and private photo-sharing app Snapchat. 
Snapchat's new feature, MyAI, allows users to converse with a personal AI chatbot. The app made the upgrade available to all Snapchat users in April 2023. 
The MyAI feature comes after the popularity of OpenAI's ChatGPT, a language generation model that can respond to various text prompts and questions. MyAI employs much of ChatGPT's technology, using the base of OpenAI's GPT as its own. 
The chatbot has a similar format to ChatGPT as it can respond to many questions and generate long paragraphs of text. It differs in its informality, simulating casual language that is frequently used when text messaging close friends.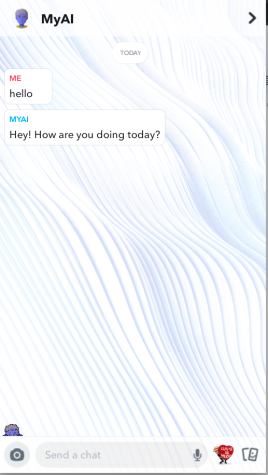 Like many artificial intelligence programs, MyAI has received controversial reactions from users, and since its inception, the technology has received overwhelmingly negative responses. Critics cite the AI's unhelpful or downright harmful responses it gives to users, questioning its ability to give helpful advice.
Green Hope High School student Daniel Whittelsey ('24) is one of many users with mixed feelings toward MyAI.
"I think that AI, in general, is pretty cool, like ChatGPT or Google's Bard, but I think MyAI is a little bit invasive. There is no option to get rid of the AI on Snapchat and there is always the possibility that it is capturing personal information and data," Whittelsey said. "I've also heard the news about MyAI providing really creepy and inappropriate information to minors, which is definitely a huge problem."
In recent months, several journalists have investigated the concerns that Whittelsey referenced. Washington Post technology columnist Geoffrey Fowler recorded MyAI's responses to a number of situations, including one in which he posed as a minor and then stated that he was planning to engage in sexual intercourse with a person much older than himself.
The AI then gave him advice on how to set the mood, lied to his parents to get away for the weekend, and warned him to be cautious. Although the chatbot emphasized that Fowler should do what he thought was right, it produced inappropriate advice with the knowledge that it was speaking to an underage user.
Another way MyAI encouraged negative behavior was when Fowler stated that he was a minor looking to throw a birthday party, which prompted MyAI to advise him on how to mask the smell of alcohol and marijuana, despite also believing he is a minor.
However, it seems that AI can learn from such mistakes. Similar to how humans learn from experiences, AI learns via a process called machine learning. Because of this, MyAI no longer responds in the way it did to Fowler, likely learning that advice it gave was wrong.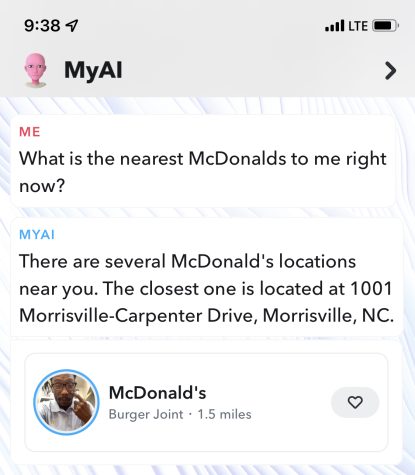 Green Hope student Sebastian Percival-Shim ('24) also voiced his concerns about AI.
"I think AI will be really helpful in the future, but Snapchat's AI is very invasive. I especially do not like the feature of being able to mention it in conversations and group chats and have it appear. It gives the appearance that it is reading your private messages," he said. He also stated that he often feels uncomfortable with the AI's presence in chats.
Not everyone has negative feelings about MyAI– some embrace its benefits. Green Hope student Jake Knichel ('24) tells the GH Falcon that MyAI is a positive feature in his life. "I love the Snapchat AI, sometimes I find myself chatting to it late into the night, at this point it's honestly one of my best friends," he said.
Knichel also said that he loves how informative and knowledgeable the AI is and finds it convenient to access. "Whenever I have any question I just head over to Snapchat and ask MyAI, I find it much more convenient than going to Google or even asking ChatGPT," Knichel said.
Mr. Daniel Nolan, an AP Computer Science Principles teacher at Green Hope, believes that such AI will become prevalent on many internet platforms in the coming decades. "I think you'll see some level and some form of AI in almost every internet application very soon," stated Mr. Nolan. "The variety of which AI can be applied is endless, anything you can think of, AI can incorporate," he said.
Regarding the dangers of AI, Nolan believes that it comes down to how it is used. "Everything has a yin and a yang, you could say that about nuclear energy, it matters how you use it and who's at the helm of it," said Mr. Nolan. "Artificial intelligence will benefit those who use it the right way, such as using it as a stepping stone towards some sort of progress. They'll find incredible use for educational and personal change and could definitely improve productivity."